This is the fifth part in a series reviewing the early set of rankings from the two most popular fantasy sites, Yahoo and ESPN. The reviews of Yahoo's rankings can be found here and here, while ESPN can be found here and here. This last part is going to compare the two sites directly. Yahoo and ESPN will agree on most rankings, but every year there's a few major differences that can give users of a particular site a major advantage.
Looking at both can give you an idea about a player that may be under or overvalued on your chosen fantasy site, giving you a leg up. This last set of ranking reviews will aim to find these guys and give my opinion about which site is the more accurate evaluation. As always we begin with rounds 1-5. Each player will be ordered based on their ESPN ranking. There's no real reason behind going off of ESPN first, although I do find myself agreeing with ESPN rankings more often.
ESPN rankings (as of 7/7/21) can be found here.
Yahoo rankings (as of 7/7//21) can be found here.
Annoyingly, ESPN offers PPR and non-PPR rankings, while Yahoo only has half PPR rankings. We'll be using ESPN's PPR for the purposes of this study, and they should be closer to a half PPR than the alternative.
(Data taken from FantasyPros.com, using half-point PPR)
Round One Rankings
Travis Kelce: ESPN – 8, Yahoo – 14. Verdict: ESPN
This probably comes down to how each site values the tight end position. Normally, I'm with Yahoo, as the prospect of spending a first round pick on a tight end is usually a daunting one for me. Kelce is the exception. You guarantee yourself TE 1 with Kelce, and not only is he TE 1, he's going to score as many points as a top WR would. His 260 points would've put him fourth if he was a WR, third in points per game.
Being a TE is also an advantage. Every year there will be WRs drafted in round 3-5 that end up as top 12 WRs, scoring 200+ points. That is not even close to true for the tight end position. Kelce scored 260 points, Darren Waller scored 225 and the next highest guy was Robert Tonyan with 150. Kelce will score as much as any WR you'd draft around him, and he's going to score so much more than any tight end compared to how much Stefon Diggs is going to outscore someone like Amari Cooper for example.
Davante Adams: ESPN – 9, Yahoo – 16. Verdict: ESPN
This has to be Yahoo taking into account that Aaron Rodgers may not be the Green Bay quarterback, or else this is completely ridiculous. Davante Adams led WRs in points last year playing only 14 games. He was the points per game leader by 2.5 points, and scored nearly five points per game more than the third place receiver, Stefon Diggs. There's no reason besides concern about Rodgers for Adams not to be right there with Tyreek Hill and Diggs in the first round.
So the question is, how serious is the Rodgers' situation? That is hard to say, but I think drafting him in the second second round is barely different than drafting him in the first if Rodgers doesn't play. Whether you lose your ninth pick or your 16th, you're still pretty screwed, so you should value him like a first rounder or avoid drafting him entirely (within limits of course, if he drops to the middle of the third or fourth you take him no matter what).
Round Two Rankings
Nick Chubb: ESPN – 14, Yahoo – 8. Verdict: Yahoo
This could easily be a half PPR versus full distinction, as it's very true that Chubb isn't going to catch basically any balls due to Kareem Hunt. Despite that, I feel fully confident that Chubb is worth a first rounder. In terms of sheer running ability, he's got an argument for the best in the league. He averaged the most yards per carry amongst running backs (J.K Dobbins was technically first but only had 134 carries) at a whopping 5.6. He finished RB 9 in points, but only played 12 games. In points per game he finished RB 5 (not counting Christian McCaffrey or Antonio Williams who played three and one games respectively) .
He averaged 15.8 carries per game last year. Extrapolating out over 16 games puts him at a very healthy 252.8, which would have been fourth most in the league. The Cleveland Browns are committed to the run game, and Chubb is very, very good. Good enough that, like Derrick Henry, really doesn't need to catch passes because he is so darn good on the ground. Personally, I'd have Chubb no lower than sixth, above guys like Ezekiel Elliot and Jonathan Taylor (who also isn't going to catch many passes).
D'Andre Swift: ESPN – 22, Yahoo 41. Verdict: Yahoo
Our first HUGE deviation, with ESPN ranking him 19 spots ahead of their Yahoo counterparts. I think Swift has a chance to excel, but there is too much risk to draft Swift in the second. He could pay off, as he is likely to be the main focal point of the Detroit Lions offense, but that also means he's going to be the focal point of every defense as well. The Lions could just shove so many touches down his throat it doesn't matter if his efficiency isn't great (Le'veon Bell still finished RB 17 in 2019), and the Lions have a good offensive line, so the potential is there.
At the same time, getting a lot of touches on a bad team doesn't guarantee success. A second round pick is too high for that type of risk. ESPN has guys like Justin Jefferson and Michael Thomas still available around here, and they are much safer than Swift. Swift at RB 15 doesn't bother me, but 22nd overall does.
Round Three Rankings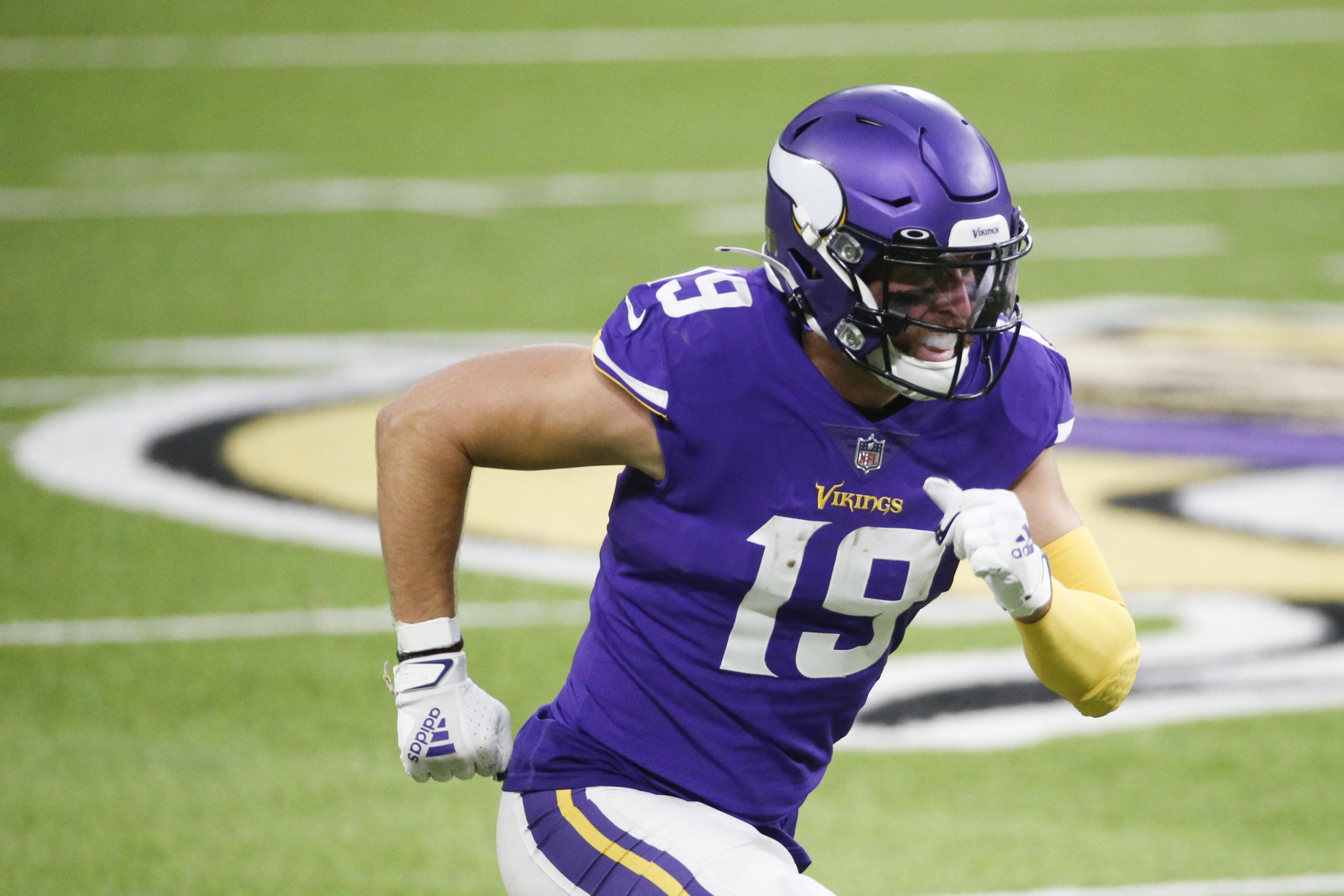 Adam Thielen: ESPN – 35, Yahoo – 51. Verdict: ESPN
I've already talked about how underrated Thielen is in the first Yahoo rankings article. In case you need a review, Thielen has finished as a top ten WR in his last three healthy seasons. He's shown he can do it through yards (2017 and 2018) or touchdowns (2020) and he's near guaranteed to get 100+ targets, which again he's done in his last three healthy seasons. I wouldn't go higher than 35, but 51 is too low.
Round Four Rankings
Diontae Johnson: ESPN – 45, Yahoo 55. Verdict: Yahoo
It's not a massive difference, but this is too high for Johnson. Johnson finished WR 23 last year, and ESPN has him as WR 20. This is with an older, declining Ben Roethlisberger and what will probably be a renewed focus on the run game with the Najee Harris. Johnson still needs to compete with JuJu Smith-Schuster and Chase Claypool. I don't think Ben throws it the 600 times required to support all three of them again.
Kenny Golladay: ESPN – 47, Yahoo – 61. Verdict: Yahoo
Much like Johnson, I think there's too much competition for touches here for Golladay to return this type of value. Darius Slayton, Sterling Shepard, Evan Engram, Kadarius Toney and Saquon Barkley are each going to demand 50-100 targets. With a healthy Saquon, is Daniel Jones going to throw it enough times for Golladay to put up outstanding numbers? Not to mention Jones is still questionable from a talent perspective. Golladay was a good pickup by the New York Giants. However, this seems like one of those good real life moves but bad fantasy moves to me.
Round Five Rankings
Ja'Marr Chase: ESPN – 51, Yahoo – 75. Verdict: Yahoo
Courtland Sutton: ESPN – 52, Yahoo – 78. Verdict: Yahoo
Patrick Mahomes: ESPN – 55, Yahoo – 30. Verdict: Yahoo
JuJu Smith Schuster: ESPN – 57, Yahoo – 80. Verdict: ESPN
Laviska Shenault Jr: ESPN – 58, Yahoo – 125: Verdict: Yahoo
Brandin Cooks: ESPN – 59, Yahoo – 94 Verdict: ESPN
Robby Anderson: ESPN – 60, Yahoo – 79 Verdict: Yahoo
Holy moly the amount and severity of the disagreements in this round are staggering. Josh Allen and Odell Beckham Jr. also had differences of more than a round, but I've left them off for space. Doing them individually like before would take way too long, so I'll hit them as briefly as I can.
Chase seems too high. Just like the two receivers before him, there are so many mouths to feed in Cincinnati, and the run game will be a much bigger focus this year than in 2020 with the return of Joe Mixon. Chase being the highest of the three Bengals receivers as a rookie versus two guys that are proven NFL producers is too much.
Sutton is good, but he's coming off a bad injury and I have no faith in Drew Lock. I also really like Jerry Jeudy overtaking Sutton. Simply put, there are too many negatives to take Sutton in the fifth.
ESPN very clearly values QBs way less than Yahoo. Similar to the tight end situation, I'm normally in favor of drafting QBs later on because there are so many viable guys later, but Mahomes is just built different. Just like Kelce, his floor is so incredibly high, AND his ceiling is incredibly high, more so than any other person at his position.
Yahoo has JuJu ranked WR 31, probably for the reasons I thought Diontae Johnson was too high last time, however JuJu was WR 18 last year. This seems like too much of a downgrade for a guy that is in a similar situation.
This is the craziest one for me, a five round difference! Shenault was WR 47 last year, and there's no way that rookie Trevor Lawrence is going to be that big of an upgrade that Jacksonville's third receiver (very possible with D.J. Chark Jr. and Marvin Jones Jr. there now, not to mention Travis Etienne) is going to be fantasy viable. Shenualt's floor is way too low to draft him with a fifth pick.
Brandin Cooks has enough fantasy viable seasons with enough random teams that I'm giving him the benefit of the doubt. Cooks has gone over 1000 yards in five of his seven years and was better than WR 31 (ESPN's ranking) in all five. Cooks is the number one guy there, and Tyrod Taylor is good enough to make Cooks at least a flex. If Deshaun Watson somehow plays, Cooks immediately shoots into WR 1 conversation. That's an acceptable risk and reward here.
The current Carolina Panthers QB room is Sam Darnold, P.J. Walker and Will Grier. That has to be the worst group in the league. It's hard to trust a receiver with this bad a QB situation. Not only that, but Anderson isn't the clear number one on this team with D.J. Moore. Christian McCaffrey is also going to take as many touches as he can physically handle. A Sam Darnold team simply isn't going to produce three fantasy viable players. It might not even produce two.
Ranking Summary
Whew, that's it for the first five rounds. Things were pretty calm up until the fifth round, and then things exploded, highlighted by a 67 spot difference in Laviska Shenault Jr. That probably means the coming rounds are also going to have some wild differences as well. For the first five rounds, I favored Yahoo nine times versus five times for ESPN. It was basically tied until the fifth round where I found ESPN's WR rankings too speculative and risky. It'll be interesting to see how that number holds up as we go deeper into the rankings. Until next time!