The season has started. It's early enough that I haven't really changed my opinion on any of these guys, though. RB is the most important spot of any fantasy team. They are the scarcest position when considering how many you need. The gap between usable running backs and the ones not worth it is big, and it comes real quick. That means getting the RBs right is of utmost importance. It's too late to draft, but it isn't too late to make some trades. Check last time's list for the guys you should be trading for, and these are the running backs you should be trading away. Just like with the QBs for my hate list, there's really not that many viable RBs. Once again I'm going with three. 
ADP Data (PPR) from FantasyData.com
Scoring Data (Half-PPR) from FantasyPros.com
Rankings in no particular order.
Najee Harris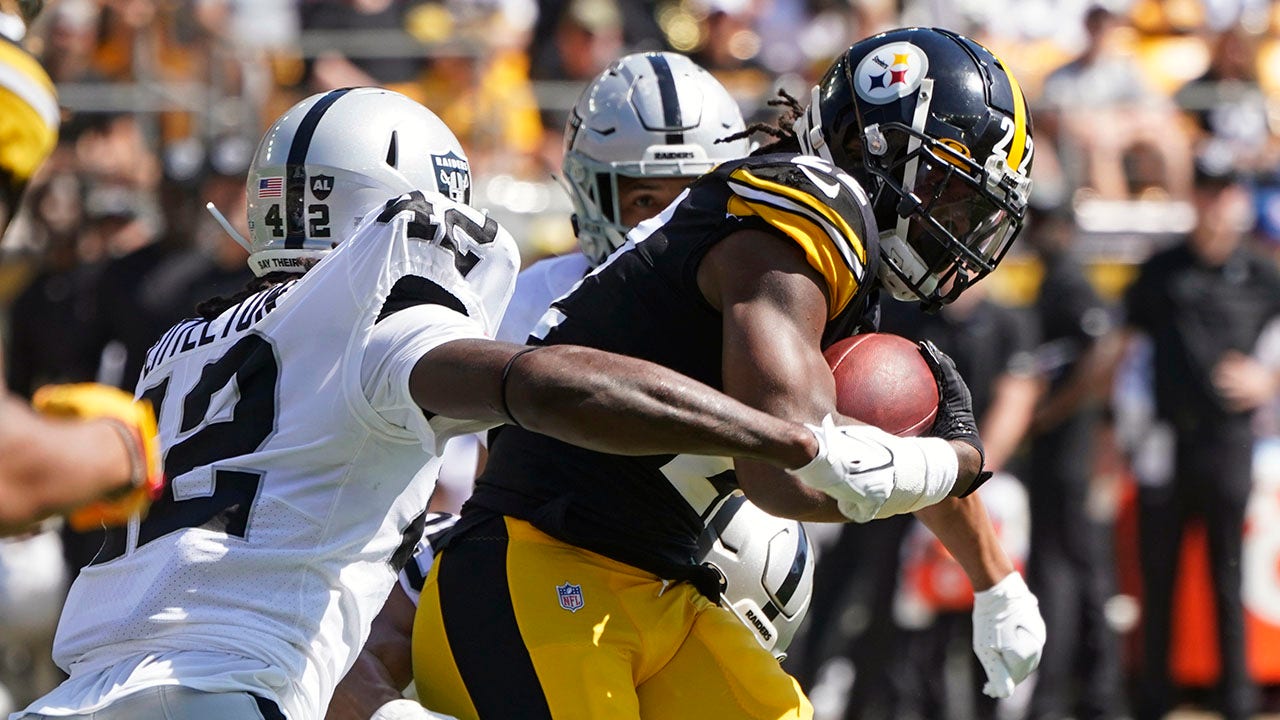 At this point in time, I don't really have an opinion on Najee Harris' talent. Many people will just say, oh yeah man he's really good, really talented, he dominated in college, etc. You should take those opinions with the largest grains of salt. Fact is, to be drafted at all means you dominated in college. Pretty much every bust there ever was dominated in college. Ergo, assuming someone doing well in college is any sure sign they'll do well in the NFL is foolish. It's a totally different level in the pros. 
So what's my point? The point is we simply don't know how good Harris is. Drafting/valuing him as high as he's going (in the first round) based on his college numbers is a bit silly. Honestly it's why drafting rookie players in general is very risky, and if it's in the top three rounds I almost never do it. My strategy at the top is to be risk-averse, and rookies are risky. Taking some fliers later on is no problem, because many rookies do well, but in rounds 1-3 it's just so dangerous. 
Opportunity?
Being good in fantasy football is all about talent and opportunity. I just explained why the talent part of Harris' game is nebulous to me. Now let's talk about opportunity. Harris' opportunity should be great. At least, the sheer volume should be. Harris was drafted in the first round, so the Steelers will use him, even if it's to not look dumb. There's no one notable behind Harris in that running room either, and Harris demonstrated pass catching (which is a skill not dependent on competition which means it should translate) ability so he doesn't need to ever come off the field. We are already seeing signs of this, with Harris playing every snap in week 1. Finally, the Steelers are no strangers to running one guy until he basically dies, see LeVeon Bell. The volume should be there for Harris, as much as he can take. 
O-Line Problems
The problem is the quality of his opportunities. The Steelers offensive line, especially in terms of run blocking, is terrible. They were the worst team at it last year, and PFF ranked them 31st coming into the season. A big part of why the running back position is less and less valued in the actual NFL is because the line is often more important than the back itself. If the line is opening huge holes every play, any professional player will do well behind that, regardless of talent.
On the flip side, if the line sucks and you're getting hit in the backfield, it doesn't matter how good you are. You're not going to be successful with any regularity.  Call it the Saquon Barkley effect. We're seeing Barkley this year, or LeVeon Bell two years ago get clobbered behind terrible o-lines. Both guys were/are considered great.
For Harris to be good enough to overcome a terrible line would be nearly impossible. We are already seeing this problem manifest, as through two games Harris is averaging a pathetic 2.96 yards per carry. Already he's got a number of highlight runs of him turning -5-yard gains into 2-3 yards gains. That's great for actual games, but not for fantasy.
What's the Verdict?
Harris will have good games on volume alone. He's good enough that over enough carries he's going to spring some long runs, or score touchdowns at the goal line. He also adds receiving work, which pretty much single handedly rescued what was shaping up to be another terrible week fantasy-wise in week 2. He'll be a playable starting running back this year barring injury due to his workload. The problem is you didn't pay for Harris to be a playable RB. You paid for him to be an RB 1. With the state of Pittsburgh's offense and especially their o-line, the chances of him making good on that is slim to none. 
You can get RB's around Harris' draft pick (or value) that either have better lines or are proven NFL talents. Paying a first round pick for a guy who we have no idea how good he is and has low quality touches (as plentiful as they may be) is not a winning formula. If you're a Harris owner, I'd look to trade him while his value is still high. He's still somewhat fresh off the draft and just had a good fantasy day. More week 1-esque performances are coming for Harris. It wouldn't surprise me to see his YPC hover around the low fours when all is said and done. That's not what you want. 
Austin Ekeler
Okay, that Harris section was really long, so I'll keep this one short and sweet. I don't like Ekeler solely because of injury concerns. Ekeler is small (5'11"/200) for a running back, and doesn't seem able to take the punishment being a starting RB requires. We saw that last year, where in his first year as the nailed-on starter he got hurt and missed six games, which was really more like seven considering he played three snaps in the game he got hurt. To be fair, Ekeler didn't really have problems before that, but he also didn't get anywhere close to a full workload. The one year he started to, he got hurt. I don't think that's a coincidence.
If you could guarantee health, I'd consider him a top five pick, maybe even top three in a PPR. He's crazy good. Shifty, fast, and an amazing receiver in a high volume offense. What's not to love? If a healthy Ekeler is playing, he's an RB 1 no questions asked. I just don't think you can get that from Ekeler all season. Even if he doesn't miss six games like last year, he may get hobbled and miss a few. He could also be on a snap count or just play worse because of his injury.  In a way, those situations are even worse, because you have to play him still and he gets you little to nothing. At least if he's on IR you can play someone else.
The above is true of any running back, to be fair. However, Ekeler's shoddy history and small stature make it more real for him than most. That's too much risk for your first round pick, which is currently his grade. 
Mike Davis
Davis is sort of like Najee Harris, except instead of not knowing if Harris is good or not, I'm really not a fan of Davis' game at all. He had some solid games last year to start the season before anyone knew anything about him and he was getting a ton of volume, but towards the end it seemed he got figured out. His stats are also less than impressive, with his YPC coming in at 3.9 which is terrible.
Now he's going to a worse team, where he should theoretically have a ton of volume, but that volume will probably be low quality. The Atlanta Falcons don't really have a history of committing to the run like the Steelers do either. Combined with the fact that I don't think he's really all that good (the guy is a journeyman running back for a reason) and Davis is a firm avoid for me.
His ADP to start the year was at 42.2, which means he cost you a fourth rounder, which is really high for a guy with so many questions. That's right around the range of Kyler Murray, Chris Godwin and Cooper Kupp to name a few. I had this opinion before these last two weeks, and so far it's panned out like I thought it would. Through two games Davis is averaging 3.63 yards per carry, which is actually worse than he did last year.
If you followed my advice, you should already have two running backs on your team from your first three picks. Davis is not a priority then, and actually is a case study on why you shouldn't wait to get an RB. If you are forced to take Davis as an RB 2, you are in trouble.
Honorable Mentions
Besides those three guys, there wasn't really anyone else on my strict avoid list. Most other RBs are valued pretty accurately, or are valued low enough that picking them despite their flaws still makes sense, especially with how scarce the position is in general. With RB you aren't going to find attractive options after even the fifth round most of the time, so anyone with a smidge of upside past that is probably worth a look. That being said, there are a few other guys that I wouldn't have been terribly enthused to get if I had to take them.
Zeke
Ezekiel Elliot was someone I avoided drafting despite often having the ability to do so. Mostly because I really love Nick Chubb, but Zeke is getting up there in age for a RB, and last year was pretty terrible. Hard to say if Zeke has truly lost a step, but he's definitely not improving, so drafting him fifth or sixth over younger guys like Chubb and Aaron Jones seemed questionable. 
David Montgomery
David Montgomery had an insane end to the year last year, but I don't know if that should erase the first 20 games of mediocre to downright bad play in his career. Justin Fields also represents a risk to his rushing touchdown production, and overall that Chicago Bears team is questionable, with PFF ranking their line 28th. 
Josh Jacobs
Josh Jacobs is another guy whose overall ability I'm really not sold on. He averaged that same terrible 3.9 yards per carry last year that Mike Davis did, and it really seems like his value is often propped up by volume alone. That was okay when he was the only guy on the Raiders, but they just added Kenyan Drake. If his touches get cut into, his fantasy production will drop like a rock. Combined with a subpar o-line, and Jacobs would've been on the hate list if not for the fact that he's going pretty late for a guy who was RB 8 last year. His ADP is 33, a late third rounder, and getting that type of production, no matter how shaky it may be, that late is not a bad deal at all.