Last week we took a look at five quarterbacks I'm eyeing in this year's NFL draft. Like I said back then, it's all about value. Guys on this list may be supremely talented, and probably better than a lot of the guys I like in terms of pure ability, but the value in fantasy drafts just isn't there. That will be the main theme coming through, although for some of these guys I'm really just not convinced about their play in general as well. We're going with three this time because honestly there are only 12 playable quarterbacks any given year, so it's not really worth hating on someone that is far out of the top 12 discussion.
Scoring Data from FantasyPros.com
Rankings in no particular order.
Lamar Jackson
Yahoo has Jackson currently ranked QB 3, and I'm not a fan of that at all. Jackson was just QB 10 last year, in what will probably be an increasingly normal season for him. Sure, his technical ceiling may be his insane 2019, but the chances of him having that type of season again is pretty slim. His touchdown percentage was an absurd nine percent, and his ANY/A was 8.19. Jackson has not consistently shown he's that type of passer. Numbers like that belong to the best quarterbacks of all time, guys like Aaron Rodgers, Peyton Manning and Drew Brees. The touchdown rate especially. Rodgers has only had nine percent twice in his career, Manning only did it once and Drew Brees never came close. Even Patrick Mahomes, who most would consider a far superior passer to Jackson, has never done it.
Jackson is not going to throw enough balls, and therefore won't throw enough touchdowns unless he has that unreasonably high percentage again. His actual ceiling then, is far too low to be QB 3 (or 4, which is his ranking by ADP). What Jackson does have is the highest floor of any quarterback week to week. He is the best running quarterback to ever touch the field, and that's not going away anytime soon. 1000 yards and around seven scores is pretty much a guarantee, and that is incredibly valuable. That being said, Jackson did that last year and was QB 10. The chances of him finishing QB 1 again are much smaller than him finishing QB 10 again, and that's not what you want to be drafting this high.
Josh Allen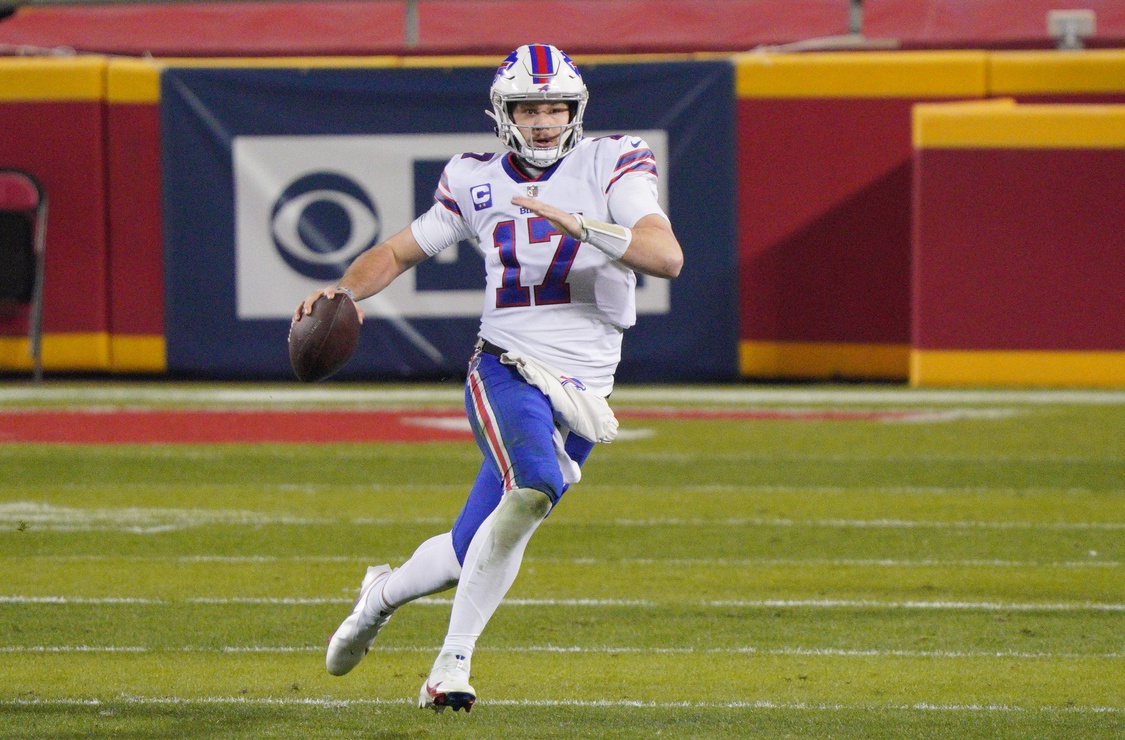 A bit of a controversial pick, as Allen was the top dog amongst quarterbacks last year in fantasy. He's also returning most of his weapons, the most crucial by far being Stefon Diggs. Unlike Lamar Jackson's MVP numbers, nothing jumps out about Allen's season that seems unsustainable either. ANY/A of 7.82, touchdown percentage of 6.5, 3.7 TD-INT ratio, these are good numbers, but not absurd numbers. That's a positive thing, as it means his 2020 performance is replicable.
His New Normal?
My only issue with Allen is how much of a leap there was from year to year. Of course, Allen was seen as incredibly raw coming in, and it's possible he truly has developed into one of the best pure passers in the league. That along with getting a legit number one option in Diggs may just mean 2020 Allen is the new normal. I'm just not sure. He increased his passing yards by 1500 and his touchdowns by 17 from 2019 to 2020. That is an insane jump. What that signals to me is that Allen is a prime regression candidate.
Since 2012, on average only one QB that finished in the top five quarterbacks repeats the next year. In addition, the number one spot has never been number one again. I don't think Allen is the guy to buck that trend. Allen's price is basically at an all time high right now. In Yahoo, he's ranked QB 2, and his ADP is 35.7, a third rounder in a 12 team league. You're paying a very high price for a guy that will probably finish in the 4-8 range of QBs. That's not bad, but there are a lot of quarterbacks that can do just as well going 20 picks later. For instance, Dak Prescott's ADP is currently 59.9, Justin Herbert is at 65.7 and Russell Wilson is at 69.4. Am I sure enough that Allen will outperform those guys enough to draft him 2-3 rounds higher? I don't think so.
Trevor Lawrence
Honestly, I quite like most of the quarterbacks this year, and I'm having to dig deep to find guys I don't really like. The only one I feel strongly about is Lamar Jackson, but I've settled on Lawrence as the third because I think he's just a little bit high for a backup fantasy QB.
Lawrence is a rookie on a team that finished 1-15. That means the team is probably not very good. They actually have a number of exciting weapons, as you could do a lot worse than DJ Chark Jr, Laviska Shenault Jr, and Marvin Jones Jr (plus his college running back in Travis Etienne), but none of those guys are a proven NFL number one type of guy. The offensive line is a below average unit (PFF has them ranked 23rd to start the season) and again, it's a first year QB AND a first year coach.
Lawrence might have the most potential variance of anyone, and drafting him isn't really a bad move. He could end up towards the bottom of the QB pile as the team as a whole goes through growing pains. He could also be the next Herbert and pop off, as he is immensely talented, has solid weapons and Urban Meyer could prove to be just as good in the NFL as he was in college. For your second QB taken to possibly be in the top 12 is all you can really ask for. 
Not Worth his Current Price
So what's the problem? In some formats he's going just a round or two a little bit high. When you're drafting in rounds 10-15 that doesn't really matter, and again I'm reaching a bit on this one, but there are still some really good backups or handcuffs to be taken where he's being drafted. In Yahoo he's ranked 114, and someone like Alexander Mattison is 118. If I have Dalvin Cook, I'd probably prefer to take Mattison.
There's also a good chance you're pretty set at QB and don't need to take a backup at all. If you have a guy like Rodgers or Mahomes, are you really ever going to bench them barring injury? Probably not, and therefore it's not really necessary to carry a backup QB, especially not one as variable as Lawrence. By the bye weeks, it's very possible that Lawrence won't be consistent enough to start, so he's not really necessary to draft.
Just like Josh Allen, there are also a number of guys that are safer, with somewhat similar ceilings being drafted much later than Lawrence. Daniel Jones (undrafted) and Kirk Cousins (ADP 154.6) could end up better than Lawrence, and some longshots like Carson Wentz (his peak 2017 could still be in there somewhere) or whoever the New Orleans Saints QB ends up being are also not bad looks especially with how late they are. Point is, Lawrence's floor and ceiling aren't significantly better (if at all) to be taken 30-50 picks higher than some of the guys I've named, especially in the early double digit rounds where there are still solid handcuffs, sleepers or flexes to be had.