The NFL Draft means new teammates, and new teammates mean new opportunities and situations. Those situations are better for some, and worse for others. Here are the biggest winners (non-drafted players) from the NFL draft.
Chase Edmonds, RB, Arizona Cardinals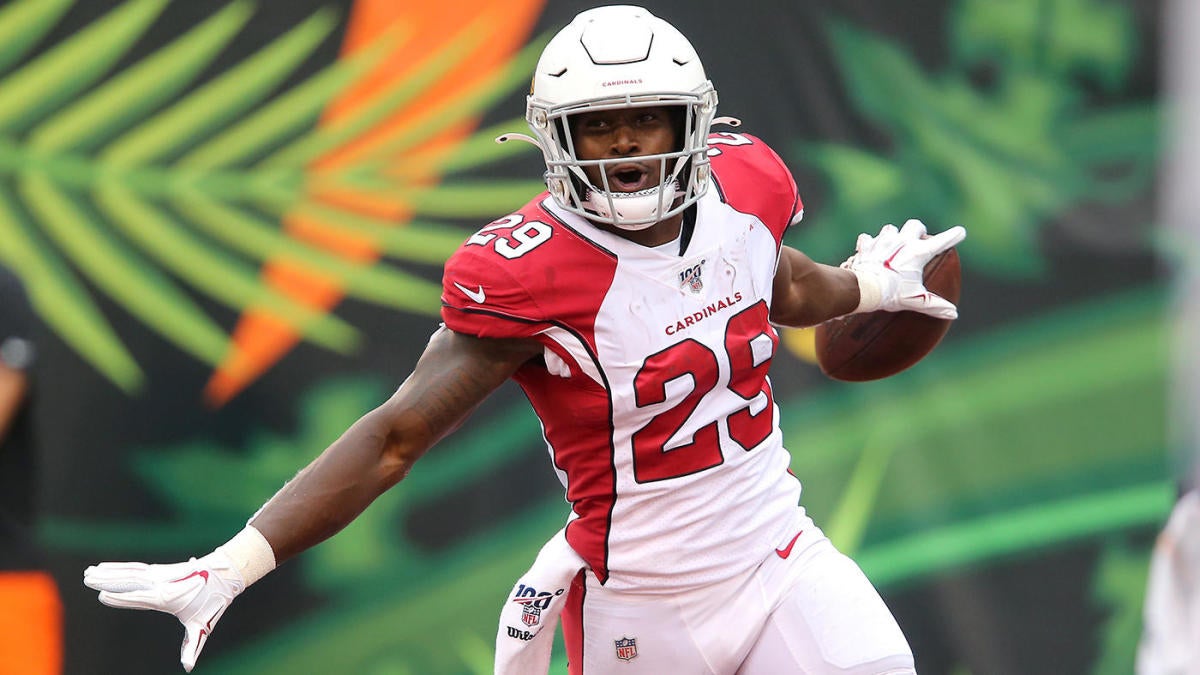 It was somewhat surprising to see the Cardinals not draft a running back a few weeks ago. They let Kenyan Drake go, but they did sign James Conner. Conner had a pretty bad season with the Pittsburgh Steelers in 2020, though. Before this year they didn't seem all that comfortable with letting Chase Edmonds loose. 
That seems to have changed. At 5'9" 205 Edmonds isn't tiny, but he's definitely on the lower end of a starting running back size wise. However, Edmonds has performed when given the opportunity. Filling in for injured guys like David Johnson and the aforementioned Drake, Edmonds has put together some really strong performances. With the Cardinals not taking anyone, it seems that Edmonds and Conner will fight for the job. Edmonds knows the offense and has performed better recently (Conner averaged just 4.0 YPC in 2019 and 4.3 in 2020). You'd have to assume Edmonds gets first crack at the starting role.
Edmonds really came on as a receiver last year, nabbing 53 balls for 402 yards and four scores. If he can add 170 or so rushes of work to that receiving, that's solidly an RB2, possibly an RB1. Fantasy is always about talent and opportunity, and Edmonds is set to see a big increase in opportunity.  
Jalen Hurts, QB, Philadelphia Eagles
It wouldn't have been shocking to see the Eagles pick a quarterback in the first round, or in the later rounds. They just have Joe Flacco in the wings currently, and the Eagles didn't seem married to Hurts necessarily. With Justin Fields still on the board (who was the near-consensus second overall pick at the start of 2020), the Eagles committed to Hurts for 2021 at least by passing on him and taking DeVonta Smith. The Eagles also didn't take mid or late-round fliers on other QBs. No Kyle Trask, no Kellen Mond, no Sam Ehlinger, to name a few examples. In fact, the only QB they added was an undrafted free agent in Jamie Newman. 
So not only did the Eagles not draft any competition for Hurts, they drafted one of the top weapons. Smith has size concerns, but his absurd numbers in college was too good to pass up. While rookie wide receivers don't always succeed right away, Smith has a good a chance as anyone to be the next D.K. Metcalf in terms of production. The Eagles' wide receiver room looks a lot stronger now, with Jalen Reagor entering his second year (hopefully his breakout year) and adding Smith. The Eagles haven't had a wide receiver break 1000 yards since Jeremy Maclin in 2014, and the Eagles are giving Hurts the weapons to change that.
Jared Goff, QB, Detroit Lions
In a similar situation to Hurts, Goff was another QB that could have easily seen his future replacement taken. Instead, the Lions decided to give Goff at least a year to see what the former first overall pick has got. Goff only has Tim Boyle and David Blough behind him currently, and neither will challenge for the job in any real way.
Instead of grabbing Goff more weapons like the Eagles did, they went the other way and got him more protection. Penei Sewell, their first round pick is one of the highest potential linemen to come out in a long time. He joins a pretty solid group already, with Frank Ragnow and Taylor Decker being two of the best young linemen in the game right now. While only a few rookie linemen each year really contribute to their team in year one, the Lions already have a good core to build on. If Sewell can show even a little bit of his immense potential in year one, Goff will have a very strong line to operate behind.
Unfortunately, they didn't really add to Goff's weapons in the draft, and with the Lions having arguably the weakest receiver group on paper that's not ideal. They only took Amon-Ra St. Brown in the 4th round. The Lions got good value on the pick (some early reports had him in the late first or early second), but Brown was not the most productive player in college, nor is he a physical freak. He topped 1000 yards just once, in his sophomore year, although he did score seven times in just six games in 2020. St. Brown brings an all-around game and versatility. He may not be the best at anything, but he's pretty good at everything. Good hands, smart, not-undersized, plays faster than his 40, polished route-runner, etc. He'll definitely push for a starting spot, and any help Goff can get is needed.
Matt Ryan, QB. Atlanta Falcons
It makes sense that a lot of the biggest fantasy beneficiaries from the Draft are quarterbacks. If you have one you like, you gotta build around him. The Falcons have done that again in 2020, taking Kyle Pitts with their first round pick. Pitts is someone that should immediately be a game changer in the passing game, easily the best tight end prospect to come out in years. Matt Ryan has had multiple seasons with top producing tight ends, and Pitts is on another level of physical freak.
Pitts, Calvin Ridley and Julio Jones (assuming he's around) is a ridiculous pass-catching group, and Matt Ryan has the ability to take advantage of it. Not only that, but just like with Goff and Hurts the Falcons chose to ride it out with Ryan, when they could've gone for a QB with their fourth overall pick. They showed faith in Ryan and got him arguably THE best weapon in the draft (going by draft position alone it's Pitts). They also continued to invest in the offensive line, taking tackle Jalen Mayfield in the third round and center Drew Dalman in the early fourth. The Falcons only had two of the line positions nailed down with Jake Matthews and Chris Lindstrom, so Mayfield and especially Dalman will have a shot to come in a play right away.
D.J. Chark Jr, WR, Jacksonville Jaguars
After a breakout 2019, Chark fell back to earth in 2020, ending up as just WR 41. Chark has oodles of talent, but his quarterbacking play often let him down. It turns out the trio of Gardner Minshew II, Mike Glennon and Jake Luton hurt your statistical production. Who knew? Now Chark will have Trevor Lawrence, the most hyped quarterback prospect since Andrew Luck.
Chark also has some interesting similarities with Lawrence's former number one receiver at Clemson, Tee Higgins. Both guys are 6'4" and possess great speed, with Chark running a 4.34 and Higgins running a 4.39. Higgins was significantly heavier than Chark (216 to Charks 198), but Chark has reportedly bulked up to 210 without losing speed.
Chark was still getting a lot of targets and opportunities last year, they just weren't connecting. At one point in the season Chark was one of six players averaging over 100 air yards per game and was the only receiver of that group not in the top ten fantasy wide receivers. That signals to me that he was open deep, the ball just wasn't getting to him. A better QB will help with that, and it's hard to believe Lawrence will be worse.
Honorable Mentions
It was a famously elite wide receiver draft, and Tua Tagovailoa, Joe Burrow, Daniel Jones and Lamar Jackson all got first round receivers added to their pass catching options. On the opposite side of the spectrum, the New England receivers should benefit greatly from having a QB that can actually throw the ball in Mac Jones. On a similar note, Trey Lance (or Jimmy Garoppolo I suppose) should be an upgrade for the 49ers pass catchers over the hodge-podge of guys they trotted out last year.