Draft fever is slowly building as we inch ever closer to the real NFL draft. There are a lot of high-profile rookies, especially on offense that will be coming into the draft this year. Guys like Kyle Pitts, Ja'Marr Chase or Trevor Lawrence will be expected to contribute immediately. What can we expect out of them? It's always hard to tell, but let's take a look at a few of the best rookies from the past few years and find some patterns.
(Assuming 12-team PPR league, data taken from FantasyPros.com)
2020
Quarterbacks
A banner year for the rookies of all positions. Even though the 2021 class is quality, if you are expecting it to be as successful as 2020 that'll be a bit of a reach. For the QB's, Justin Herbert finished as QB 10, a starting fantasy QB in basically all leagues. Joe Burrow on a points per game basis was also playable at times, coming in at QB 15 (amongst QBs that played more than half the season).
Herbert got a bit lucky, coming into a solid team offensively and getting to start because of an unfortunate injury. Burrow on the other hand, also came into solid skill positions, but was expected to start right away.
Running Backs
For a more detailed analysis you can check here and here.
Overall, six rookie running backs were various levels of playable. Jonathan Taylor, Antonio Gibson and James Robinson were RB 1s, while Clyde-Edwards Helaire, D'Andre Swift and J.K Dobbins were RB 2s or more flex status.
CEH was a high pick going to a good team. He might have gotten lucky with the Damien Williams opt out but was still expected to contribute immediately. Gibson, Taylor and Robinson also saw the people that were probably going to be above them get injured or cut late in the offseason. Dobbins went into a three headed monster of a backfield, as did D'Andre Swift although both managed to carve out starting roles by the end.
Wide Receivers
For a more detailed analysis you can check here and here.
Just like the running backs, rookie wide receivers were great in 2020. Justin Jefferson was obviously amazing, what with breaking the rookie receiving record and all. Beyond him though, Ceedee Lamb was a solid WR 2, while Chase Claypool, Brandon Aiyuk and Tee Higgins all would've seen flex consideration.
Jefferson walked into a team as the clear WR 2, and despite not being an elite passing offense per se the Minnesota Vikings had supported two wide receivers before. Lamb and Claypool both had two guys on the depth chart above them on what was supposed to be elite passing offenses. That didn't completely pan out, but both proved their worth. Aiyuk benefitted from a lot of injuries to get more snaps than he would've seen otherwise, and Higgins also managed to supplant someone to become a WR 2.
Tight Ends
There were no playable rookie tight ends in 2020. There were no TEs drafted in round one, only one in round two and two in round three.
2019
Quarterbacks
Not a bad year for the rookies by any means, but not close to the 2020 heights. I don't think any class will come close to that one. Kyler Murray was the only QB to finish as a starting fantasy player. He was the seventh QB in total points, although he does drop to QB 12 in points per game. Speaking of PPG, Daniel Jones only played 12 games so he was only 22nd in total points, but he was QB 14 in PPG, meaning he was definitely an option.
Murray was the clear starter after the Arizona Cardinals dealt Josh Rosen, and the team wasn't very good but he still put up numbers. Jones on the other hand didn't get to start from day one, but probably had the superior skill positions with Saquon Barkley, Evan Engram and Darius Slayton amongst others.
Running Backs
A pretty solid rookie class at this position as well. Miles Sanders and Josh Jacobs headlined the group, both finishing as RB 2s. David Montgomery and Devin Singletary were also playable, landing more as flex spots. Singletary was better per game than Montgomery but played fewer games.
Jacobs was drafted as a bell-cow on an okay team. Montgomery was also drafted to be the primary back, although he did cede most of his passing game work to Tarik Cohen. Singletary and Sanders had a guy in front of them but it was always more of a 50/50 to start and by the end both had the starting job.
Wide Receivers
Even though D.K. Metcalf got a lot of hype and was playable for a few weeks, overall he wasn't really a fantasy asset, landing at just WR 35. A.J. Brown and Terry McLaurin were the only truly usable rookie wide receivers at WR 23 and 25 respectively. Despite the fact that quite a few wide receivers got drafted in the top three rounds (13), only two made it their rookie years.
Both Brown and McLaurin didn't have a clear star in front of them and both seized the WR 1 spot for their team fairly early on.
Tight Ends
Again, no usable rookie tight ends in fantasy, with the closest being Noah Fant at 17. Unlike 2020 though, this year saw two TEs drafted in the first round and two in the second, with none of them making a fantasy impact.
2018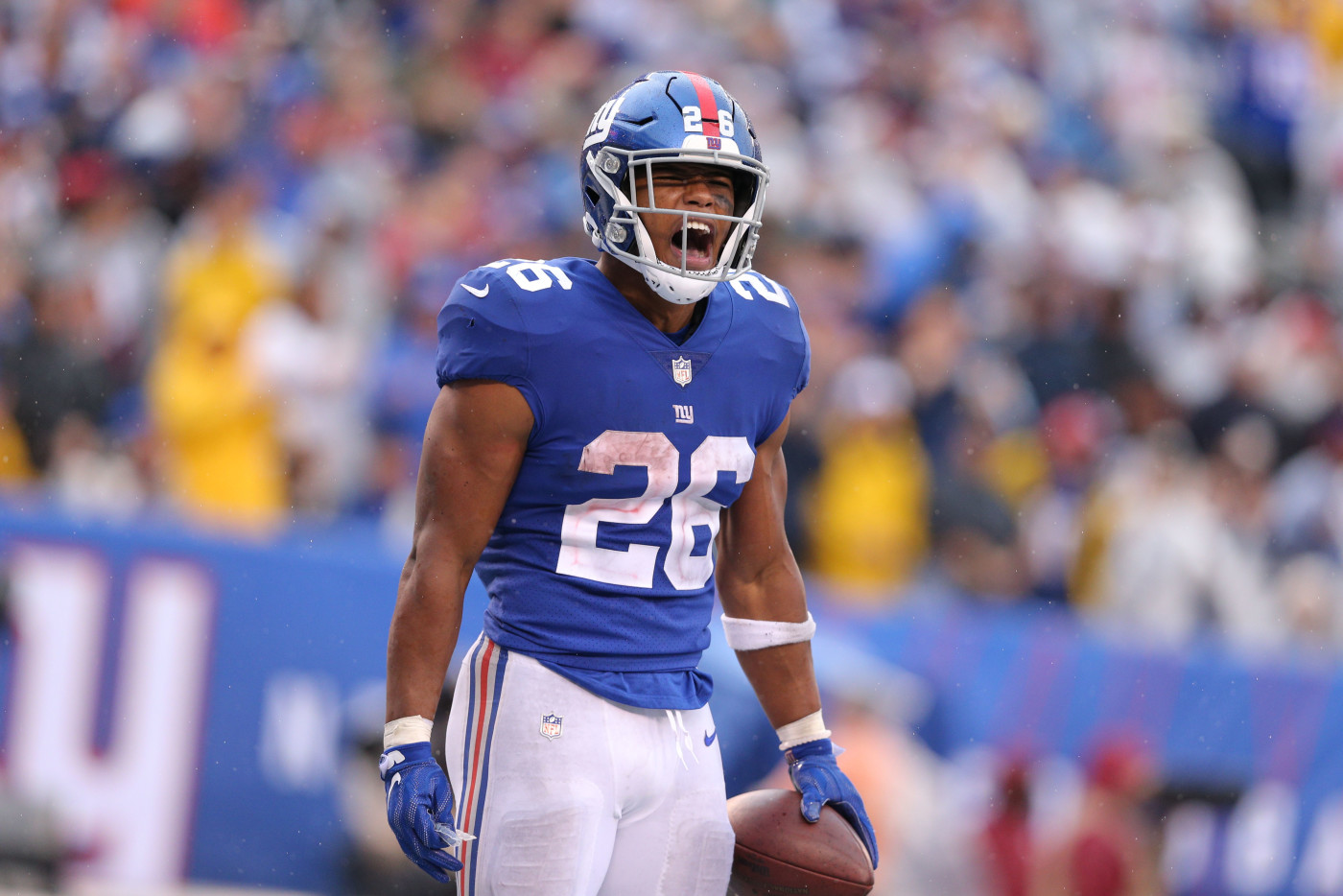 Quarterbacks
The only quarterback of the five taken in the first round that was usable at any point was Lamar Jackson. Once he got the starting role in Week 11 he was QB nine for the rest of the season. The next closest was Baker Mayfield at QB 17 for the year. That's got some interesting parallels to 2021, as there are four QBs projected to go in the top 10 just like in 2018.
Darnold and Allen were day one starters, although they both missed time in the middle of the season. Mayfield and Rosen started after just two games on the bench. Jackson, who waited the longest, was also surprisingly the most successful.
Running Backs
Another solid group, headlined by rookie sensation Saquon Barkley who finished the year RB 2. Beside him though, Phillip Lindsay was RB 12 and Nick Chubb was RB 15, so three guys you no doubt started every week. Lastly, Nyhiem Hines finished RB 28 due to PPR, which puts him solidly in flex contention.
Barkley was brought in to be the top dog and delivered. Chubb and Lindsay both had guys ahead of them but stellar play led them to seize the starting job halfway through the season. Hines was always brought in to be a pass catching back and performed well in that limited role.
Wide Receivers
Just one name this time, with Calvin Ridley being the only usable fantasy rookie. He finished as WR 22 on the year. He came into a nice situation, with Matt Ryan playing some of his best football and Julio Jones opposite of him demanding most of the attention, especially in the red zone.
Tight Ends
*Crickets*
2017
Quarterbacks
Deshaun Watson should've made it as an everyday starter, and he was while he was playing. Unfortunately injuries limited him to just the first seven weeks. He was QB 5 in those weeks though. The team he walked into wasn't great (although they did make it to the playoffs the year before) but Watson had got one of the best wide receivers in the business in DeAndre Hopkins to help him out. He also had the talented but oft-injured Will Fuller for half his games, and Fuller scored seven touchdowns in his four games with Watson. Besides Watson though, none of the other rookie QBs made a difference in fantasy.
Running Backs
One of the best running back classes ever, even in their rookie years. There were four backs that finished as RB 1s, a ridiculous number. Alvin Kamara, Kareem Hunt, Christian McCaffrey and Leonard Fournette. Also in this class were Joe Mixon, Aaron Jones, Austin Ekeler and Dalvin Cook, although those guys weren't great year one.
Kamara walked into an elite offense and found his role immediately despite not being the primary runner due his ridiculous receiving work. The other three were given the starting role from the rip and did well with their opportunity.
Wide Receivers
On the opposite side we have the wide receivers, who were far from stellar. Despite having three wide receivers drafted in the top 10, none of those guys came close to playable in fantasy, with John Ross' -.8 points putting him dead last of 215 receivers. Outside of those three though, it wasn't as bad. Cooper Kupp made it as WR 24, meaning he was a starter. JuJu Smith-Schuster was WR 30 which means he was a solid flex or better. His PPG was actually higher than Kupps.
Kupp came out of nowhere, becoming a popular slot option and led the Rams' wide receivers in yards and catches. JuJu Smith-Schuster ended up as the second wide receiver on what was a top five passing offense in the league.
Tight Ends
Our first rookie tight end, and it's a good one. Evan Engram had his best season as a pro so far and finished TE 4. They committed a high pick to Engram and he was seen as a receiver first. Odell Beckham Jr's early injury also opened up targets for him. Besides OBJ there wasn't really a true established receiver which helped him as well.
2016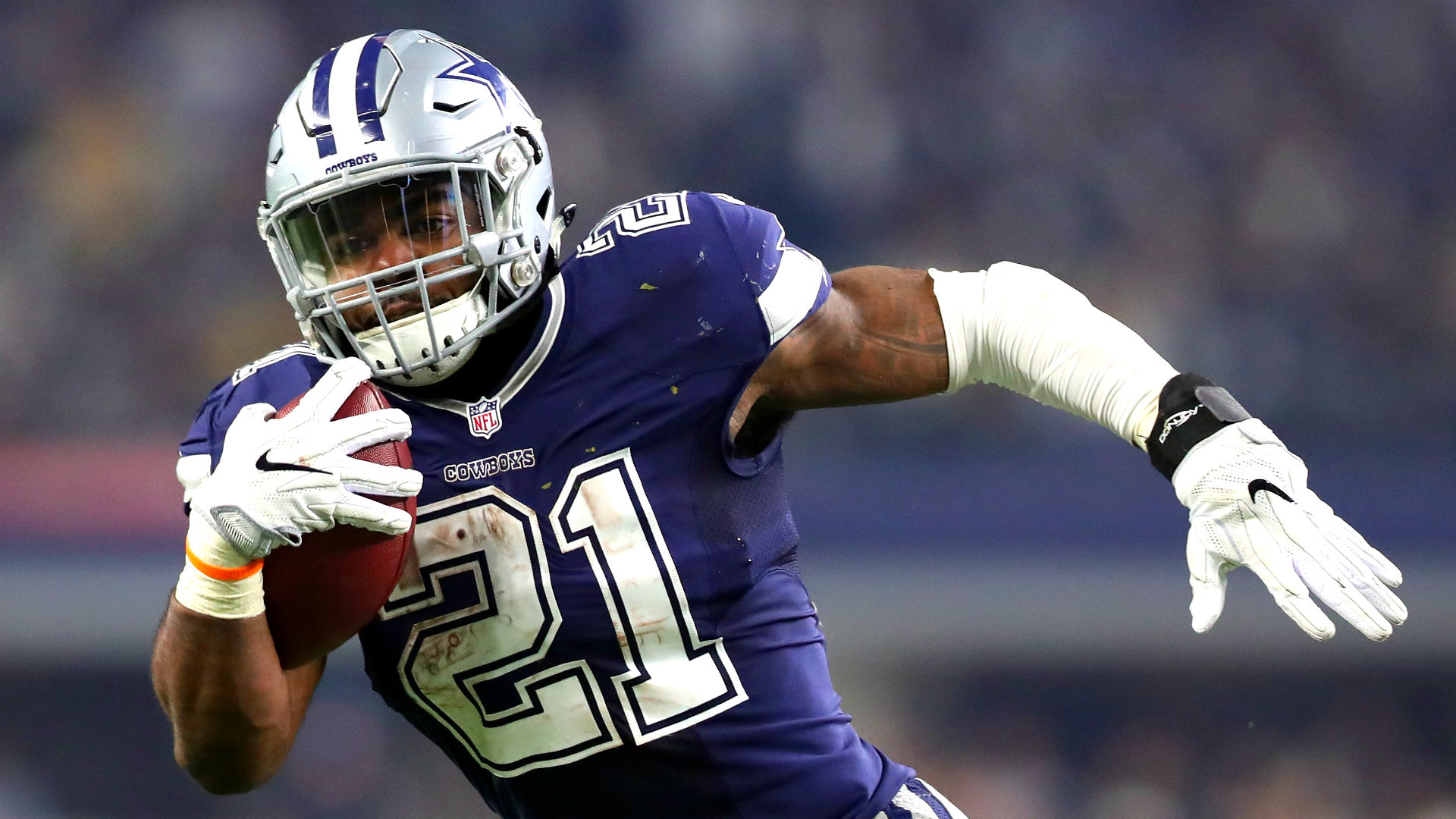 Quarterback
Just one quarterback managed to make an impact on the fantasy landscape, and it wasn't either of the two drafted first or second. Instead, Dak Prescott came in QB 6, which is a pretty amazing placing. Prescott needed a bit of injury help to get the chance to start but he ran with his opportunity.
Running Back
Another rookie running back made it to the top in 2016. Ezekiel Elliot lived up to his OSU career and snagged the second overall running back spot. Joining him as an RB 1 was Jordan Howard, who came in tenth.
Ezekiel Elliot was drafted to be the man and he was. Howard on the other hand also needed some injury luck to the starting running back Jeremy Langford, but once he got the job he never looked back. It was top heavy however, as no other rookie was even close.
Wide Receiver
Another OSU guy represents the rookies for the wide receivers as well. Michael Thomas was great from day one, placing WR 11 in his first year. Tyreek Hill made it close, and was a flex player coming in at WR 25. Thomas benefitted from having a HOF QB right away, and he was a natural replacement for Marques Colston. Hill also made it into a pretty solid situation, with offensive genius Andy Reid coaching the Chiefs to a 12-4 record. He was much more of a gadget player then, but was still his game-breakingly fast self as had 12 total touchdowns (six receiving, three rushing and three returning) on not that many touches.
Tight End
Engram retains his status as the only rookie tight end to be a fantasy impact player.
Trends and Patterns
Quarterbacks
In the five years we looked at, at least one rookie quarterback made it into the top 12 fantasy starters. At the same time, it was basically only ever one, with 2020 and 2019 featuring guys that maybe flexed at some point if you needed it. Despite a lot of quarterbacks going in the first round, the number of usable rookies is low. That's important to keep in mind, as 2021 has five projected QBs in the first round.
Of the 5-7 rookies that you can say succeeded, there isn't any one thing that really unifies them. Watson and Herbert benefitted by having true No. 1 receivers, but many of the others didn't. Same with a strong running game or good line. Burrows and Watson were drafted to be day 1 starters, the others were not. Most of the guys were fairly mobile and able to contribute to their overall score with solid or better rushing, with guys like Murray and Jackson making it large parts of their game. Unfortunately that really doesn't give much to go off. Overall, rushing helps a lot, and be careful as generally only one, maybe two of these highly drafted rookies will contribute fantasy-wise.
Running Backs
Rookie running backs have a lot of upside. Despite not always demanding high picks, at least two and most of the time more are playable, and they often have RB 1 potential. It definitely helps to have the starting job be yours by default, but many of the backs got their job through injury or other factors. They were also generally a mix of picks, with some high first rounders like Ezekiell Elliot and Saquon Barkley and others much lower like Philip Lindsay or James Robinson. Most of the guys that scored well were first or second rounders (especially the second), but not exclusively.
Wide Receivers
Besides an outlier year in 2020, rookie wide receivers usually only produce one fantasy starter and one flex. It's possible that these recent classes are just better, or times in the NFL are a-changing. While I'm not ruling that out, historically rookie wide receivers don't make much impact in fantasy. Don't let 2019's stellar class blind you. With three receivers near locks to go in the first round and perhaps more, be aware that only one or two will likely be usable in fantasy.
It was another mixed bag of attributes that made for successful wide receivers. Some were drafted to be number two or three guys and produced well. Some were drafted to compete for the top spot and got it like McLaurin or Brown. A few were outside receivers, others were in the slot. Having an elite quarterback helps, but it doesn't guarantee success. Tyreek Hill (although he's something of a special case) and the aforementioned Brown and McLaurin didn't have near the same level of QB like Calvin Ridley or Michael Thomas did when they were drafted. Picks were also all over the place.
Tight Ends
Only one tight end in the five years ended up being a usable fantasy player and that was Evan Engram in 2017. This was with a variety of picks too, from first rounders and beyond. For what it's worth, Engram was a first rounder. The obvious 2021 application here is Kyle Pitts, however by all accounts Pitts is more of a wide receiver than any tight end we've seen…ever. Basically, it's Pitts or bust this year.