Drafting rookies is always dangerous. There's such a huge risk-reward in grabbing a first year player. Fact is we really don't know exactly how good these guys are. Just like the teams drafting them, we can hope, but there are so many examples of a stud in college not making an impact in the big leagues. I'm going to run down the rookie running backs that got decent playing time, talking about their production, their value and their future.
(Draft assuming a 12 team league, data taken from FantasyData.com. PPR scoring.)
Overall it was an interesting class. There were a number of rookie running backs that saw time, but many not substantial time until late on in the year. There were four near day one starters, Clyde Edwards Helaire, Jonathan Taylor, Antonio Gibson and James Robinson. Three rookies came on late to seize the starter job in D'Andre Swift, Cam Akers and J.K. Dobbins. Finally there were five backs who got bit parts due to injuries and other situations.
Let's start with the guys that started a majority of the season. First we'll compare it to how many similar players there were to past years. This category was pretty much the same. 2019 saw four such runners and 2018 saw five. 2020 had one RB drafted in the 1st round of fantasy drafts, one in the 3rd, one in the 6th and one undrafted. 2019 had two in the 3rd, one in the 5th and one in the 8th round. Finally, 2018's starting rookie running backs had one drafted in the 1st, one in the 3rd, one in the 5th, one in the 7th and one undrafted. So again, fairly similar year to year. Not a ton of conclusions to draw, but it could help to know the distribution of rookie running backs stays fairly the same year to year.
Let's get down to the runners.
Clyde Edwards-Helaire: ADP 6, RB 6. Actual RB 19, PPG RB 20.
It was a disappointing year for CEH. After Damien Williams announced he would forego the season due to coronavirus concerns, hype for Helaire shot through the roof. He was immensely productive in his last year at LSU, and walked into a team loaded with offensive talent as the clear running back of choice. He had skills as a runner and as a pass catcher out of the back field. Unfortunately he failed to deliver big for fantasy owners. He still gave you RB 2 numbers despite missing two games, but it certainly wasn't what you anticipated for him. Especially if you used a precious early first round pick.
The volume wasn't too bad, on the season he had 18.1 touches per game. His efficiency however, especially running the ball, left a lot to be desired. His 4.4 yards per carry average ranked him 25th amongst qualifying backs. What really sunk CEH however was the lack of touchdowns and scoring opportunities. He scored just five times total on one of the league's best offenses. His first game in the NFL may have sealed his fate. He received seven carries inside the ten and failed to punch any of them in. The rest of the season he received eight total. The Kansas City Chiefs may have lost faith in his ability as a goal line back right then and there.
The future also doesn't look great for Helaire. With Williams coming back and CEH doing very little to show he deserves a bell cow role, his volume looks to decrease immensely next season. The Chiefs tried CEH as a lead back early on, and clearly weren't happy with the results and acquired Le'veon Bell midseason. Banking on Helaire getting that sole job back next year is dicey.
Jonathan Taylor ADP 28, RB 19. Actual RB 7, PPG RB 11.
Taylor owners got a bit lucky, as the Indianapolis Colts' original starting running back Marlon Mack had a season ending injury early into the first game. Before his injury he and Nyheim Hines were splitting carries exclusively. Of course it was very possible (or likely for some) that Taylor would've seized the starting job anyways, but Taylor owners got a massive boost to his early value.
Taylor made the most of it, going over double digits five of the first six games. However after the bye there was trouble. He started ceding carries to both Hines and Jordan Wilkins, getting out-carried by one or both three straight games. An ankle injury may have contributed to that, but he did play in those games. Starting from week 11 though, Taylor was an absolute monster. He and David Montgomery were second half heroes, with Taylor averaging a bonkers 21.5 points per game.
Taylor got some decent passing game work which was a surprising plus given Hines presence on the roster, but he really showed out as a runner. He averaged a great five yards per carry, tying him for ninth in the league. He was third in the league in rushing (although there was a massive gap between 1 and 2 and 3, but still).
The future looks solid for Taylor. Mack is scheduled to be a free agent, and with how Taylor performed he looks to have his job secure.
Antonio Gibson ADP 72, RB 32. Actual RB 12, PPG T13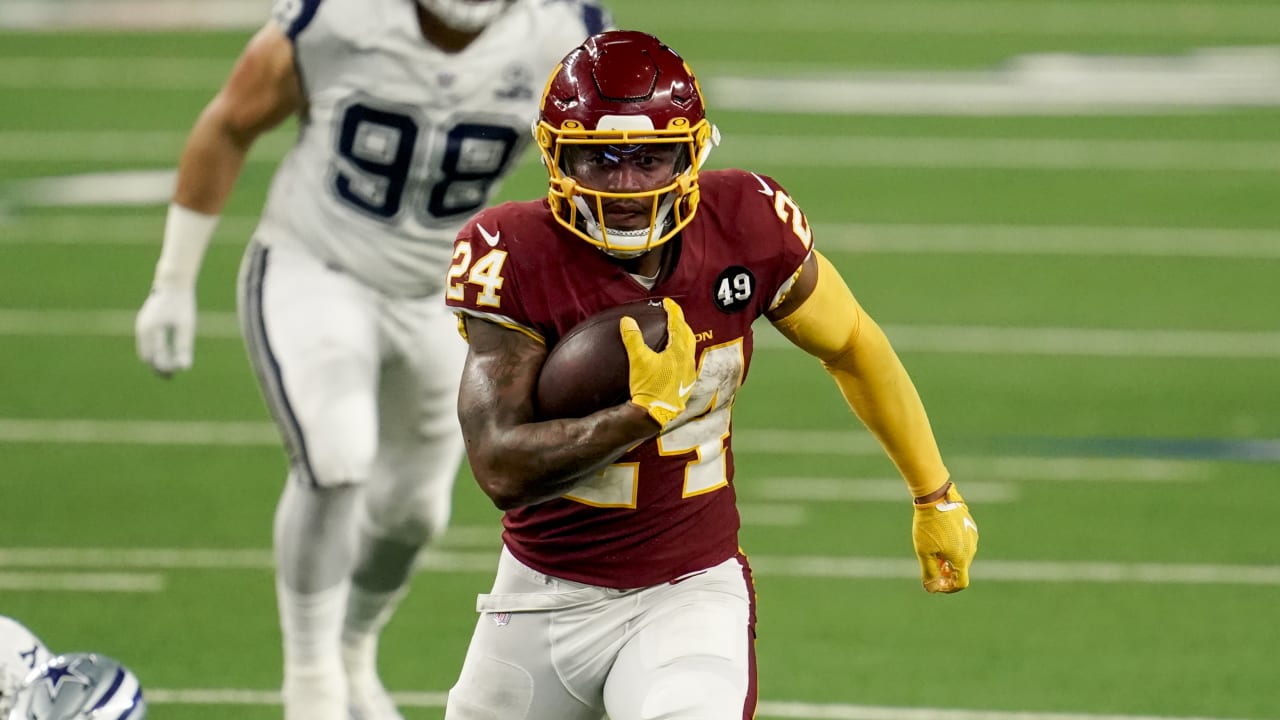 It took him a while to get going, but Gibson delivered in the middle of the year before an unfortunate injury ended a promising fantasy season. His volume was not ideal, but you can hope it will pick up in year two. He only had over 15 carries four times this season, and was under 10 carries four times. His receiving work isn't bad but it isn't reliable because the WFT have a reliable pass catching back in J.D. McKissic. Gibson was smack dab in the middle efficiency wise at 4.7 yards per carry.
Gibson's touchdown's really boosted him into fantasy relevance. He punched it in 11 times on the ground, including a five week stretch where he scored nine times. Honestly, that is concerning. Touchdowns are often extremely variable. Especially with Gibson's rather low volume, it will be hard to keep that rate up. He broke 100 yards rushing just twice this year. Without the touchdowns, I'm not sure he replicates an RB 1 finish.
Gibson's future is murky. He averaged 16.3 carries in the three games before he got hurt and was a top RB in that time. Will it continue into next season? He came back week 16 and averaged a similar 14.5 carries in the final three games, so perhaps the workload will be there. But he's also only in a little more than half the offensive snaps per game. I'm not convinced of the volume and if his touchdowns regress it could spell trouble.
James Robinson ADP undrafted. Actual RB 4, PPG RB 5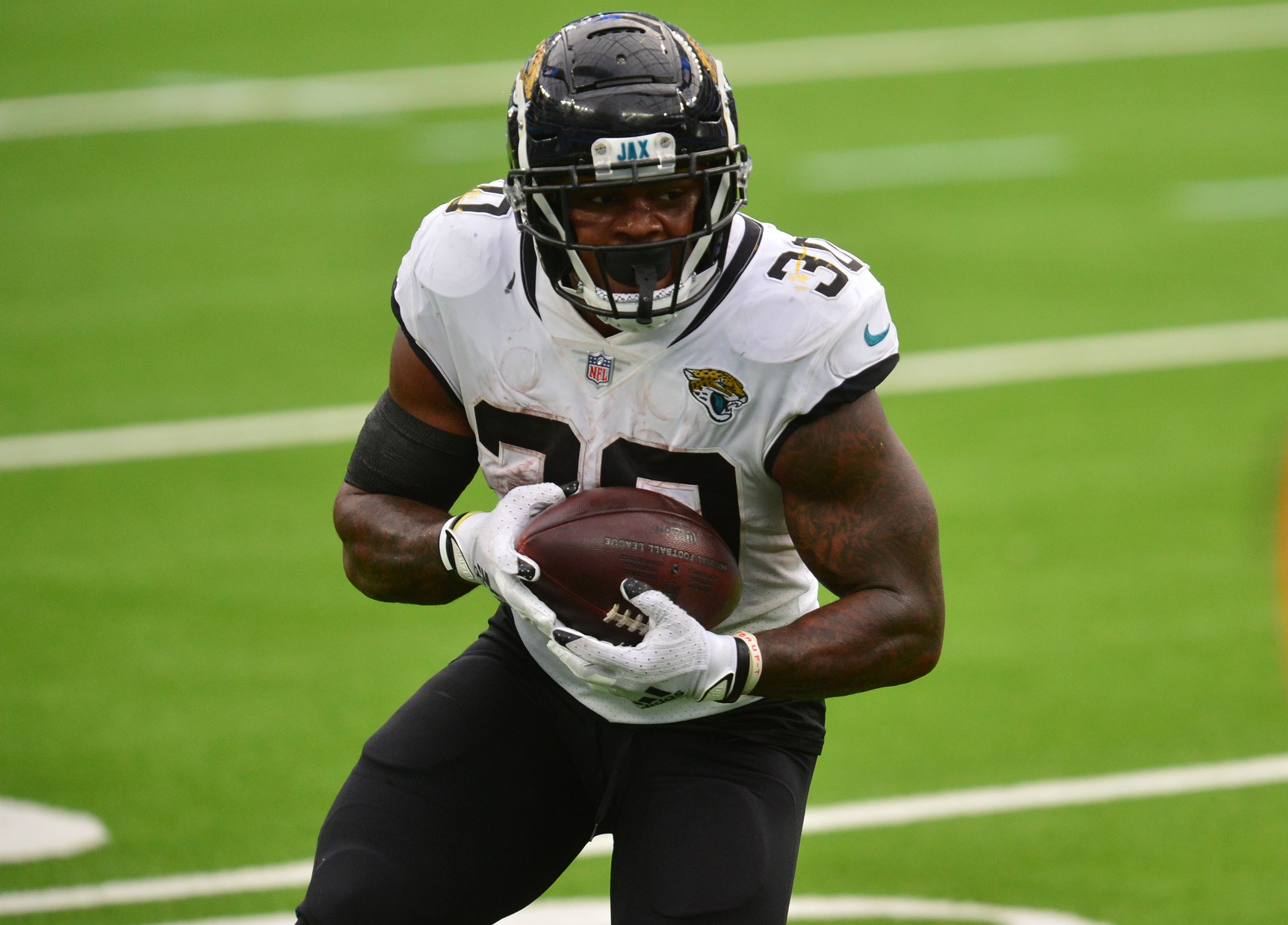 There's always one of these guys, an unsung hero that manages to break out in spectacular fashion and often win their shrewd (or lucky) owner the league. Robinson's path to the starting job wasn't clear, but when it came down to it he was the day one starter and he seized the job and never looked back. He broke the 1000 yard rushing mark and added 344 yards receiving as well. Robinson's best attribute was often his workload. He was the unquestioned starter and got basically all the RB work rushing and receiving, a rare sight in this day and age. Robinson averaged 20.6 touches per game. He scored ten total touchdowns, a nice healthy number for his volume that seems repeatable.
The volume is the key however. His efficiency wasn't anything to write home about, 4.5 yards per carry puts him tied for 24th. Yards per carry aren't everything, but unless a rookie running back really comes in and wows people, their job is anything but guaranteed, especially for an undrafted player. Dozens of rookie running backs put up solid numbers and are relegated to the bench or time shares the next year. If Robinson's workload suffers at all his production will drop off fast. The Jacksonville Jaguars offense may change significantly as well. New coaches, new QB and a lot of new faces could suddenly see Robinson lost in the shuffle.
Of course, maybe that's much too pessimistic for the 4th highest scoring running back in the league. Robinson no doubt produced, and should walk into camp the unquestioned starter. And a better offense can mean more room for him even if his volume falls. Finally, the Jaguars ran the ball the least amount of times in the NFL last year. Even if an RB comes to split time with Robinson, his volume can easily stay the same if the Jags as a whole run it more.
Overall
This was something of a banner year for rookie running backs. To be fair, the devastating amount of injuries to high profile backs probably helped, but there was a record amount of rookie running backs in the top 24. Five rookies managed to be an RB 2 or better, and three were in the top 12. 2019 had just two rookie runners make the top 24, and neither of them were RB 1's. 2018 had three guys in the top 24, but did have two in the top 12.
Next time we'll take a look at the rookie runners that had to earn their jobs in the middle of the season.