The NBA plans to resume the 2019-2020 season on July 30th and one of the teams that got invited down to ESPN's Wide World of Sports Complex to play meaningful NBA basketball is the Boston Celtics. The Celtics have been most people's trendy pick to either make a conference finals appearance or even a Finals appearance out of the East. But although I'd take the Bucks in what should be a longer and more competitive series than last season's meltdown, (thank you, Kyrie), there's no doubt in my mind that Jayson Tatum, the Celtics 22 year-old flirting superstar, can swing a game or two in Boston's favor. As long as LeBron or Anthony Davis or Kawhi or Giannis doesn't come down with a case of the corona, and doesn't pay off the right guy to hide or switch the positive test result, there's almost no chance that Tatum leads Boston to title number 18 in Disney World. But, from what he's shown us, you can't look me in the eyes and tell me that if everything plays out right, Tatum can't be the best player on a championship team in the future.
We've all heard of some variation of a stat about Tatum's dominant stretch of basketball before the shutdown, so here's one to consider: Tatum averaged 27.9 PPG, 7.3 RPG, 3.1 APG and 3.7 made threes per game over the last 23 games of the season. The only player in NBA history to average 27 / 7 / 3 / 3.5 over an entire season is Paul Geroge, last season as a member of the Thunder. And guess what? 23 games isn't a "small sample size." In a season of normal length, that would be 23% of the season, which is a pretty hefty sample size. This season, that's 39% of the games so far. The aforementioned Paul George, I believe, is 90-95% of Tatum. Yup, that's right, I think that Tatum is the better player right now. There's nothing that George can do that Tatum can't, and Tatum has been playing elite defense and is a little bit more unpredictable and dangerous coming off a screen.
Ok, whatever, cool, you're thinking. So what that he's better than Paul George? George wasn't an All-Star this season and has been arguably just the third-best player on the Clippers. Let me remind you about a couple of the classic "measuring stick" games for Tatum against the two best small forwards and arguably the two best healthy players in the league, Kawhi Leonard and LeBron James. In the two meetings against the Clippers this season, Tatum has averaged 34.5 points, 7.5 rebounds, 55.3% from the field (26-47), and 50.0% from beyond the arc (10-20). Kawhi has averaged 22.5 / 8.5 / 36.2% FG% (17-47) / 25.0% 3PT% (4-16). Tatum in his two meetings with LeBron this season has averaged: 34.0 points, 5.0 rebounds, 58.0% from the field (22-38), and 60% from beyond the arc (9-15). LeBron has averaged 22.0 / 7.5 / 45.2% FG% (14-31), 33.3% 3PT% (4-12). No, I'm not saying that Tatum is just as good as Kawhi and LeBron. I mean, for starters, Kawhi and LeBron are forced to shoulder the burden of being both a superstar and the number one option on championship-contending teams. But what I am saying is that Jayson has demonstrated that he can rise to the occasion against these guys. He can not just hang with them, but outplay them. We, as basketball fans, remember how exciting these games were, how Tatum was handling himself like a superstar in these games, demanding the ball and scoring. If you took someone who had never watched basketball before and had them sit down and watch the two games that the Celtics and Clippers played this season and the two games that the Celtics and Lakers played this season, they would come out of it thinking that Tatum was the best player. The dude dropped Paul George and made the game-tying three in one game, got buckets and locked down Kawhi in crunch time of another game, and forced the Lakers to double team him near halfcourt in another game. And at just 22 years of age, man, what promise.
| | | | | |
| --- | --- | --- | --- | --- |
| | PPG | RPG | FG% | 3PT% |
| Jayson Tatum | 34.5 | 7.5 | 55.3% | 50.0% |
| Kawhi Leonard | 22.5 | 8.5 | 36.2% | 25.0% |
Boston Celtics vs. Los Angeles Clippers, 2019-2020
| | | | | |
| --- | --- | --- | --- | --- |
| | PPG | RPG | FG% | 3PT% |
| Jayson Tatum | 34.0 | 5.0 | 58.0% | 60.0% |
| LeBron James | 22.0 | 7.5 | 45.2% | 33.3% |
Boston Celtics vs. Los Angeles Lakers, 2019-2020
With the way that Tatum has played since he got the All-Star nod, which, to me, served as both positive reinforcement and a positive label that reinforced his confidence and thus production, Tatum is possibly the 2nd best healthy player in the Eastern Conference right now. I really like Pascal Siakam and what he means to the Raptors, but Tatum has simply leaped him. Joel Embiid is an unguardable beast at times but has proved to be too inconsistent, especially with his effort. If Embiid was truly an MVP caliber player like some think he is or could be, then maybe the Sixers 10-24 road record this season wouldn't be worse than the Knicks' road record. I don't believe that the jury is out on Embiid quite yet, I mean, he could be going through what Tatum was going through last season in regards to some pieces around him not really vibing with the team overall. Let's not forget that Tatum's sophomore "slump" was largely due to Kyrie's toxic leadership, the awkward reemergence of Gordon Hayward into the lineup, and all the shots that Marcus Morris and Terry Rozier felt obligated to take. With Embiid, his dip this season can partially be attributed to the losses of Jimmy Butler and J.J. Redick, while both a poor man's Butler in Tobias Harris has been forced to take on a slightly greater offensive responsibility and the ghost of Al Horford has backfired on the Sixers' frontcourt hopes. But, as the best player on the Sixers team, to be considered a top 10 NBA player or superstar, you can't let your team lose by double digits in Boston, in Miami, and in Milwaukee on the same road trip. 20 and 9 on 31% from the floor isn't going to cut it against good teams like that. On the flip side, what really impressed me with Tatum was how he responded after the 41-point performance in Los Angeles: 36 points on 8-12 from beyond the arc in a 12-point win at Portland and then a 33-point, 11-rebound, 13-20 from the field outing in an 11-point victory in Utah in a game that the Celtics entered as underdogs. It's one thing to muster a great game vs. a great player like LeBron at the Staples Center, anyone on any given night can do that. But it's another thing to follow up that performance with two more impressive showings to close out a strong road trip, and that, to me, is an indicator that Tatum has taken that step up into flirting with superstar status.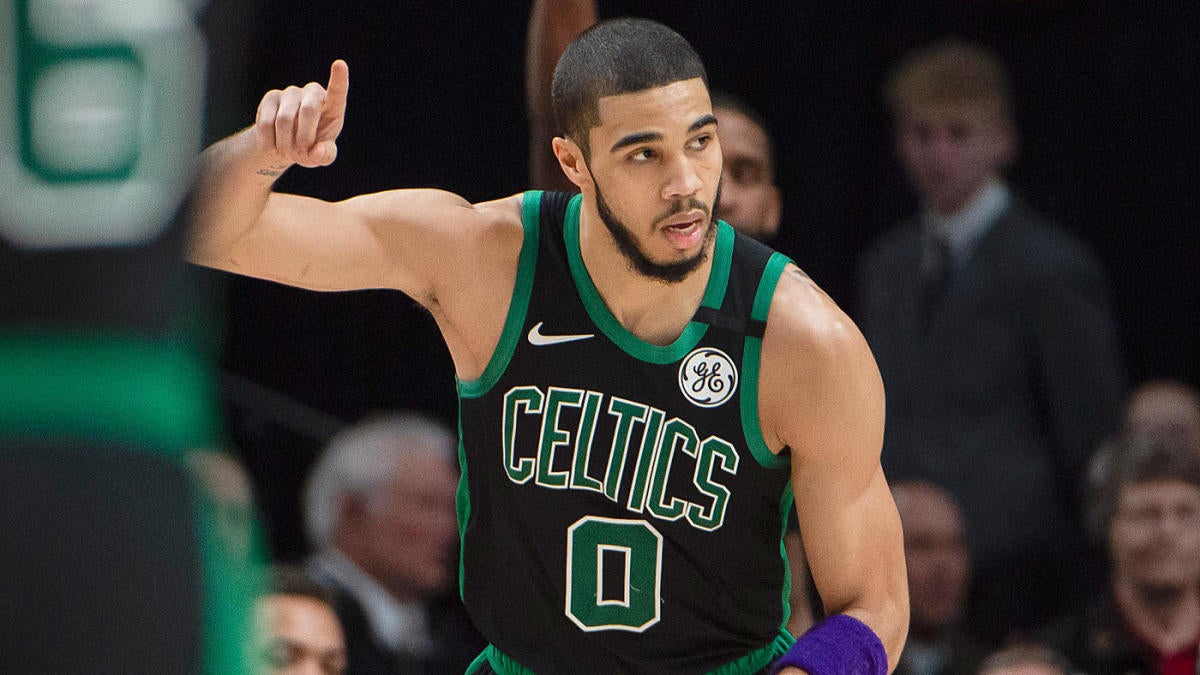 Tatum may also be the 3rd best single trade asset in the league today behind Giannis and Luka. For the sake of debate, there are three names who I will entertain the thought of being a better trade asset: Zion, Anthony Davis, and Ben Simmons. Zion is an ultra-unique athlete with insane explosiveness and quickness. I love watching him play but Tatum is a better asset due to the injury and longevity concerns about Zion. Despite playing in his 8th season, Davis is somehow only 27 years old. His scoring, rebounding, and shot-blocking production is elite, but he's never played at least 80 games in a season and led his team to just two playoff appearances in seven years as a Pelican/Hornet. Lastly, I only acknowledge Simmons because a friend of mine, who frequently predicts sports correctly, thinks that Simmons has more potential than Tatum. Well, my friend is going to be wrong with this one. Simmons has incredibly elite instincts that enable him to be an amazing defender and a special force in transition. But, he doesn't have a three-point shot, or at least the confidence to take them in games. Hey, guess what is super valuable in the NBA? A big wing who can create his own shot. That's Jayson Tatum. And guess what isn't super valuable in the NBA, especially in the 4th quarter? A point guard who doesn't need to be defended because he can't shoot. Yup, you guessed it, that's Ben Simmons.
Since the Mavericks won in 2011, 8 of the 9 NBA Championships have had a superstar average at least 23 PPG, 4 RPG, and 2.5 APG. For 6 of those 9 champions, including the last four, the superstar averaged at least 25 PPG, 6 RPG, and 3 APG. Tatum, for the 2019-2020 season, hits the first set of criteria, and, over his last 23 games, also hits the second piece of criteria, granted, of course, 23 games is not an entire season. Additionally, all the superstars of the championship teams were at least 26 years old, so obviously Tatum doesn't hit that mark. However, the bottom line is Jayson Tatum is really good right now and still ascending. He can score at all three levels, he has demonstrated the ability to take control of close games, his free throw attempts per game have increased from 2.9 to 4.7 from last season (6.0 over his last 23 games), his side step and step back threes are eye candy as a Celtics fan, and he can compete with any individual player in any individual game. Danny Ainge should unload a max contract for him and re-tool this Celtics team in a few key ways, and, with enough luck, the Celtics will have themselves banner 18 and Jayson Tatum will be hoisting the Bill Russell Finals MVP in the parade in Boston.