Every NFL game has drama, even when the score isn't so close. There's a story on every team worth keeping an eye on, whether you're a casual watcher or a diehard fan. I'm also penning my expectations for the games because it's more fun to be right. Last week, I was 9-5 in my predictions but 14-0 on exciting stories. Here are my Week 7 storylines and predictions.
Giants (1-5) @ Eagles (1-4-1)
Spread: Eagles -4
Prediction: Eagles 29-21
What to Watch: I can't believe that there will be a tie for first place in the NFC East tomorrow night. I motion for Clemson to replace the Jets and Alabama to replace the loser of this game. It's not that the Eagles have a lack of talent, per se, it's just that all of their talent is on injured reserve. I'm pretty sure Doug Pederson made a blood sacrifice of future players to win the Super Bowl in 2018. It's the only reasonable explanation. Somehow, the team is still playing well enough to score points and these two are evenly matched. By evenly matched I mean they're both really bad. The Giants offense is performing far worse, though, so I expect the Eagles to win, even if it's ugly.
Lions (2-3) @ Falcons (1-5)
Spread: Falcons -2
Prediction: Falcons 26-24
What to Watch: The Falcons had a very emotional week, culminating in their first win. The city deserved it. Now they're looking to start a winning streak and prove their offense is still a winning unit. The Lions are an interesting defense, allowing a disgusting amount of EPA/play but not ranked too poorly by Football Outsiders. The Falcons should be able to put up numbers against the Lions defense but if Julio Jones disappears again, they could be in for a long night. I'm looking for some big time throws in this one and hopefully they just shelve Todd Gurley in favor of a dynamic passing attack.
Browns (4-2) @ Bengals (1-4-1)
Spread: Browns -3.5
Prediction: Browns 35-28
What to Watch: Last week I said the Browns would suck against the Steelers. They have an opportunity to make up for it against their in-state rivals this week. The Bengals collapsed as the game went on against the Colts and I don't think they get off to a hot start in this one again. I want to see Myles Garrett continue to dominate the line of scrimmage and poor Burrow won't have time to throw the ball. AJ Green jumped in a time machine and brought back his old self for Week 5 and if that one shows up again, the Bengals will keep it close. OBJ is catching everything but COVID – it's weird, man – and it'll be worth it to watch him.
Packers (4-1) @ Texans (1-5)
Spread: Packers -3.5
Prediction: Packers 42-37
What to Watch: The Packers were my biggest miss of last week, and the Buccaneers defense absolutely slapped A-Rod and the offense. I don't expect that to happen this week. The Packers offense is fun to watch when Rodgers gets going and playing against the league's 27th worst defense by DVOA will do that. Houston, meanwhile, also has a stellar offense led by Deshaun Watson and Will Fuller. I'm going to be watching this one closely because these are two top-ranked offenses both playing against bottom-barrel defenses. Everyone loves a good shootout and even more people love hitting the over bets.
Panthers (3-3) @ Saints (3-2)
Spread: Saints -7.5
Prediction: Panthers 26-24
What to Watch: The Panthers are actually on par with the Saints when it comes to offensive efficiency, and while I don't like Bridgewater, Robby Anderson is fun to watch. This guy is carrying on the tradition of exceeding expectations after leaving Adam Gase and the Panthers are better for it. Kamara is always fun to watch in this one, especially after the Moss grab over Rayshawn Jenkins. The defenses are both very "meh" but I expect itty bitty air yards from the QBs and massive yards after catch. Panthers get the upset though, even with Mike Thomas coming back.
Bills (4-2) @ Jets (0-6)
Spread: Bills -13.5
Prediction: Bills 28-7
What to Watch: The Bills are coming off 2 losses after winning their first 4. Thankfully for them, the Jets are the perfect "get-right" game. Buffalo's defense is a shell of its former self and the offense has sputtered recently. The Jets have been cutting and trading players left and right, going full force to tank their season. On the one hand, surely they have to win one game right? But on the other hand, Trevor Lawrence is too damn good to pass up. You can't take any chances that you might lose him. Go 0-16. I promise Adam Gase is trolling us at this point and intentionally losing games. The Jets offense scores 1 touchdown on Sunday and we all watch in horror (or hope?) as Sam Darnold realizes he will not play for the Jets much longer.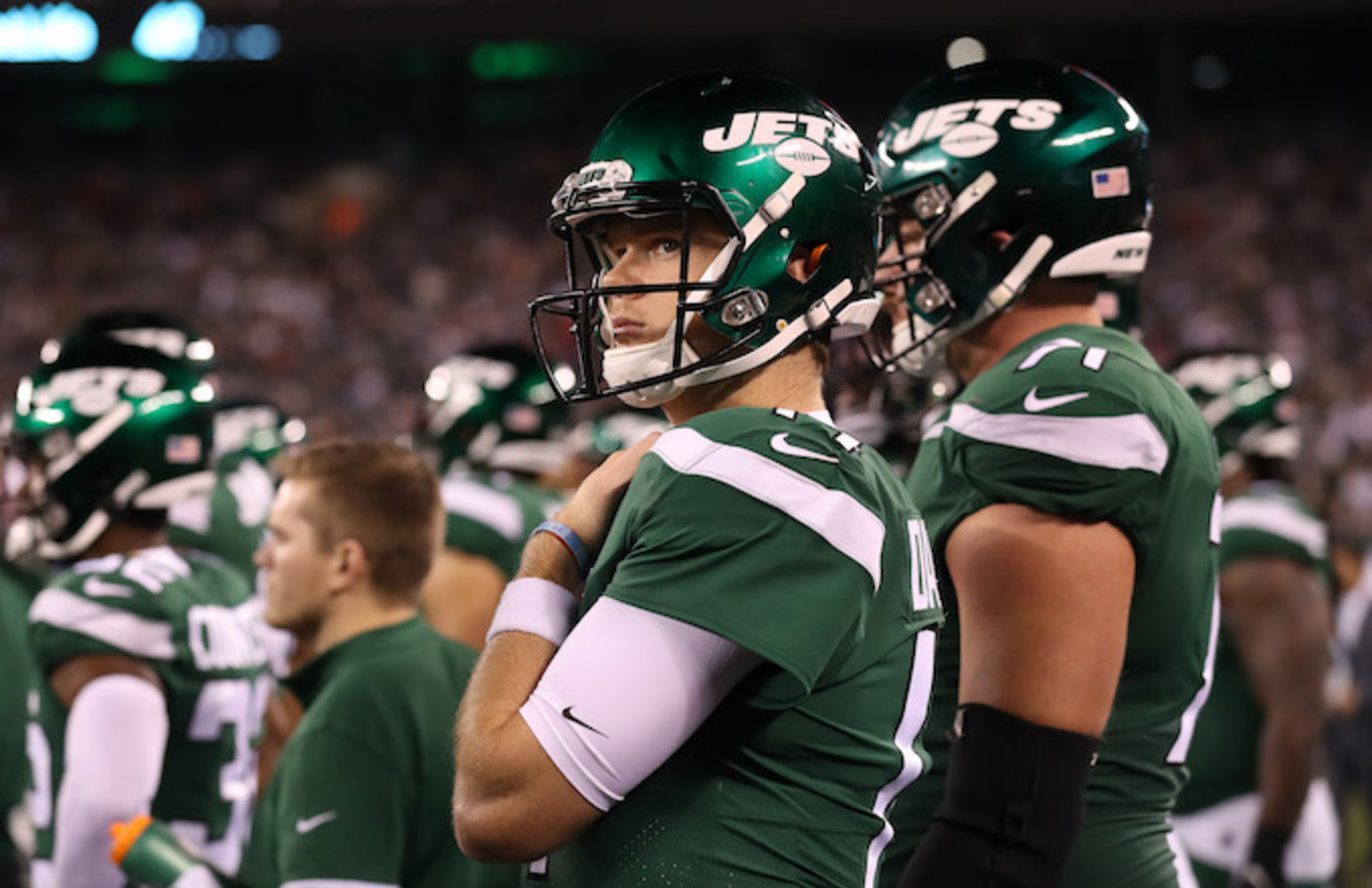 Steelers (5-0) @ Titans (5-0)
Spread: Steelers -3
Prediction: Titans 36-28
What to Watch: This is easily the best game of the week, with two teams fighting for the number 1 seed in the AFC. The Titans are the number 3 offense in DVOA and the Steelers are 9th. The Steelers have a better defense, but this game has playmakers all over the field. It's going to be televised for the most of the country, so make sure to watch two heavyweights duke it out. The Titans have the more explosive offense, though, and I think that becomes the difference in this one. Big Ben makes some mistakes, tosses up an interception and maybe fumbles in the pocket, giving the Titans too many chances to take or extend a lead. Steelers force the Titans into a lot of difficult decisions, but Mike Vrabel has cojones and nothing scares this guy. Tennessee ends up kings of the AFC.
Cowboys (2-4) @ Washington (1-5)
Spread: Washington -1
Prediction: Washington 24-16
What to Watch: I miss Dak. The Cowboys with Andy Dalton are inefficient and unable to push the ball downfield. Washington's average defense is good enough to stop Dalton because Zeke is not enough to take down this team. The Dallas defense is worse though, so Scary Terry gets his fantasy points. The QB situation in Washington isn't good either, so I'm watching this game to laugh at terrible quarterback play. Seriously. Whichever quarterback is willing to take more chances downfield, and whichever coach is willing to give their quarterback the chance, will win this. I think Washington does that this time and takes the lead in the NFC East.
Seahawks (5-0) @ Cardinals (4-2)
Spread: Seahawks -3.5
Prediction: Seahawks 35-24
What to Watch: Kyler Murray's running form by itself is enough to make me watch this game. DeAndre Hopkins is going to abuse the Seahawks defense and make the score interesting, but ultimately this is Seattle's chance to establish dominance against their upstart division rivals. These division games are always fun to watch, and Kliff Kingsbury's offense facing off against the Seahawks should be fun too. In the end, I don't trust Murray enough throwing the ball. He's too erratic. The Cardinals won't be able to score enough points against the league's number 1 offense by DVOA.
Chiefs (5-1) @ Broncos (2-3)
Spread: Chiefs -10
Prediction: Chiefs 28-18
What to Watch: The Chiefs have the best QB in the NFL and one of the most creative coaches. And yet they aren't putting up the scoring totals we would expect. Still ranked highly in nearly every metric, this team is fun to watch. If Le'veon Bell makes it onto the field this week, that's viewpoint number 1. Second to that is the Denver offense. Hopefully Noah Fant makes it back and gives Drew Lock another option so that a kicker doesn't have to be the game's leading scorer. It also doesn't hurt that Fant is TE1 on a lot of fantasy teams. The Chiefs will win this because Denver can't keep up and the Chiefs are coming off the Thursday Night game.
Jaguars (1-5) @ Chargers (1-4)
Spread: Chargers -7.5
Prediction: Chargers 24-13
What to Watch: Eventually Justin Herbert has to win a game. This week against the Jaguars is the perfect time to watch Herbert let it rip. The guy has a beautiful deep ball and I look forward to it every week. Against the Jaguars defense, I'm hoping to see 3 or 4 of them. On the Jacksonville side, I'm hoping to see more Minshew antics, but man DJ Chark just sounds defeated. I want to see the guy succeed, at least in a competitive game. But with the Jaguars getting blown out by bad teams, it's tough to be a fan. As long as you got the Chark, though, there's something to look forward to each week.
49ers (3-3) @ Patriots (2-3)
Spread: Patriots -2.5
Prediction: 49ers
What to Watch: The Patriots have been a defensive team the past few years, and with a healthy Tom Brady, Gronkowski, and Edelmen, that used to be enough. Not anymore. The Patriots don't have it in them to win games with the offense they currently have. Cam Newton is putting up negative EPA on dropbacks this season. Whether that's because of an abysmal supporting cast or because he is struggling himself, it doesn't matter. The offense is not playing well. The 49ers will find ways to make it happen, even when the most handsome quarterback in the NFL has negative air yards. Seriously. He threw it behind the sticks more than any other quarterback in Week 6. I'm watching for the upset by the 9ers, but maybe Newton gets right this game. Either way, it should be fun.
Buccaneers (4-2) @ Raiders (3-2)
Spread: Buccaneers -2.5
Prediction: Buccaneers 27-23
What to Watch: Before this week, I would not have been excited about this game. But the Buccaneers defense is dominating every team and the offense is finding its groove. I admit that I didn't see this coming. They had great receiving weapons, but I wasn't sure they could put it together. This team destroyed the Packers a week ago, though, and the matchup between the defense and Derek Carr is one to watch. Henry Ruggs is an electric downfield threat and I'm looking for a back and forth game between Ruggs and the defensive backs. In the end, I think the Bucs take this one because the defense is going to stay stout on 3rd and 4th downs. Jon Gruden, please let Ruggs loose.
Bears (5-1) @ Rams (4-2)
Spread: Rams -5.5
Prediction: Bears 21-20
What to Watch: All aboard the Chicago Bears hype train! I'm kidding. There is no hype train. Absolutely no one believes in this team. They haven't for a while. But this team beat the Buccaneers, a favorite of many experts. They aren't losing games. There are no big slips or mistakes. Foles and Trubisky look ugly and no one is calling them elite, but the team is well-coached and doing what it takes to win the division. The Rams, on the other hand, are winless against teams not in the NFC East. I think the Rams are looking to redeem themselves after the loss to the 49ers and McVay will try to be creative, but unless Aaron Donald can put the fear of God into Foles, the Bears keep the lead in the division.