Football starts this week! How crazy is that? We won't be without football until 2022 now, and that is going to be awesome. Fantasy has well and truly started, and it's time to really get serious. Where the rubber meets the road so to speak. Although it is late, I still want to continue with my series about player positions I like and dislike. It's or my own posterity as much as anything else. Even if this article can't help you draft, it can possibly help you identify people to target tradewise. Maybe it'll help you on the waiver wire. This week, we take a gander at the most coveted of all fantasy positions, the running back. If you missed the wide receiver ones and want to look back, check here.
ADP Data (PPR) from FantasyData.com
Scoring Data (Half-PPR) from FantasyPros.com
Rankings in no particular order.
Nick Chubb
I'm in love with Chubbs talent, enough to take him above his ADP of 10.5, even in a PPR. Chubb doesn't get catches, and that does limit his potential ceiling, but Chubb is straight up talented. He averaged the second most yards per carry amongst running backs last year with a stellar 5.6. Chubb also punched it in 12 times. He had the third most yards per game, third most touchdowns and he did it in just 12 games. He's never been below five yards per carry in his career either. Point is, Chubb is a top-five runner in the game right now.
Fantasy is all about talent and opportunity though, and thankfully Chubb also has great opportunity. Sure, he may not get catches, but he's going to get a ton of rushes. He had 298 in 2019 when he was full healthy, and he was on pace for 253 carries last year if he played a full 16 game slate. That would have put him fourth in the league.
Kevin Stefanski was the OC for Dalvin Cook's breakout year, and that year the Minnesota Vikings were fourth in rushing attempts. Last year, the Cleveland Browns were also fourth in rushing attempts. This team will run a lot, and that's even better since the Browns will probably have positive game script (meaning less throws) in most of their games since they should be winning.
The final piece of this puzzle is that the Browns have an excellent offensive line. PFF even ranked them number one in their preseason rankings. So to review, Chubb is an incredible talent, he's going to get tons of carries, and he's got an amazing line in front of him. That's a great recipe for a top five back.
Saquon Barkley
Barkley flies against my "don't be risky in the first three rounds" philosophy, and there's definitely risk. Barkley has earned the injury-prone tag, as he's missed a lot of games two of his three years. That being said, lots of guys start out with an injury-prone label, but they just need one or two seasons of not being injured and all of a sudden it's gone. Case in point, Dalvin Cook, who used to be considered fragile, then made it through the last two seasons relatively unscathed and now he's a top three pick.
Of course, Barkley is coming off an ACL tear, and we still don't have a totally clean bill of health label on him, but that's why you can get him for the relatively cheap price of 13th overall. If you can go back to back with a safe RB like Chubb and then Barkley, that might be a league winner, because Barkley is worth the risk.
An Elite Talent
Simply put, Barkley is the most talented running back I've ever seen, and that's not really a hot take. Many analysts out there share the same view that purely talent-wise, he's the best in the NFL right now. He's a ridiculous blend of size, speed, skill and elusiveness, equally capable of shedding tackles or plowing right through them before he takes one to the house.
This may be the only time in his whole career you can get him for this cheap until he's washed up, and he gives major Adrian Peterson in 2012 vibes. He was also a ridiculously talented RB that tore his ACL the year before causing him to drop to the end of the 1st or the early 2nd, and then Peterson promptly ran for 2000 yards. Barkley could do the same, he's THAT good.
Let's not forget in his rookie year where, in addition to his 1307 yards and 11 touchdowns, he had 91(!) catches for an additional 721 yards. In a PPR, he was tied with the fantasy god himself Christian McCaffrey for the top RB spot. This is a guy that, if he plays 16 games, will be a top two RB, near guaranteed. It's worth risking a 11th-14th overall pick on that potential.
Miles Sanders
Sanders is an injury replacement for Gus Edwards, who suffered an unfortunate injury that will take him out for the season.
Sanders, just like pretty much everyone else on this list, was an efficient runner last year. He was fifth in yards per carry (5.3) amongst running backs, only behind some of the best backs in the league right now like Derrick Henry, Nick Chubb and Aaron Jones. That was with a very patchwork line that the Eagles were working with, and a horrible passing game. The Eagles line should be much improved IF they can stay healthy, which is a big if to be fair.
Sanders also had a historically awful year catching the ball. His catch percentage was just 52.8% which for a running back is really awful. Due to the nature of their receiving work, it's rare for a RB not to be in the 70s percentage-wise. Considering Sanders had a 79.4% catch percentage his rookie year, on more targets actually, I doubt the issue is with Sanders. The Eagles screen game was horrible last year, but it's a point of emphasis for new HC Nick Sirianni and it can hardly get worse.
Will he get the Opportunity?
Workload has always been the real issue with Sanders in terms of fantasy, and it's questionable if that will change. On one hand, Sirianni had no problem riding Jonathan Taylor when he was hot last year as the Indianapolis Colts offensive coordinator. On the other hand, the Colts did use a lot of different guys and clearly differentiated the roles of Taylor (the primary runner) and Nyheim Hines (the pass catcher). Not only that, but Jalen Hurts will add his own rushing, and they tend to vulture short running scores.
That being said, Sanders' ADP is in the fourth round, and he's RB 20. He was RB 23 missing four games last year. If he basically does the exact thing he did last year, with just four extra games, he will return value. To me, that means his floor is around RB 23, and his ceiling is much higher if he can truly become a bell cow back.
Damien Harris
Besides Saquon, this is the riskiest pick on the list. The New England running back spot has been a mess for years, but Harris has as good a shot as any to buck that trend. Harris didn't get much work last year for various factors, a big one being injury, but he showed out in the touches he got. Harris averaged a great five yards per carry (that's been coming up a lot recently) last year, which equaled names like Dalvin Cook, Alvin Kamara and Jonathan Taylor. The only thing that he was missing was touchdowns and carries, but this year that should change.
Cam Newton is gone, which should severely up his touchdown potential. Not only that, but the 2nd (Newton) and 3rd (Sony Michel) most carries on the team are gone, and those two amounted for 216 carries, 1041 yards and 13 touchdowns. If Harris can get even half of that, he's suddenly in top 12 running back territory. The New England Patriots also have a top three line according to PFF. Talent, meet opportunity.
All that for the price of a fifth rounder is a solid deal. If he busts, you aren't doomed, and he could be an RB 1 at his top potential. Harris isn't going to catch anything because of James White, and Rhamondre Stevens represents that ever dangerous Patriots threat of Harris getting replaced, but the risk is worth the reward in the fifth.
Kareem Hunt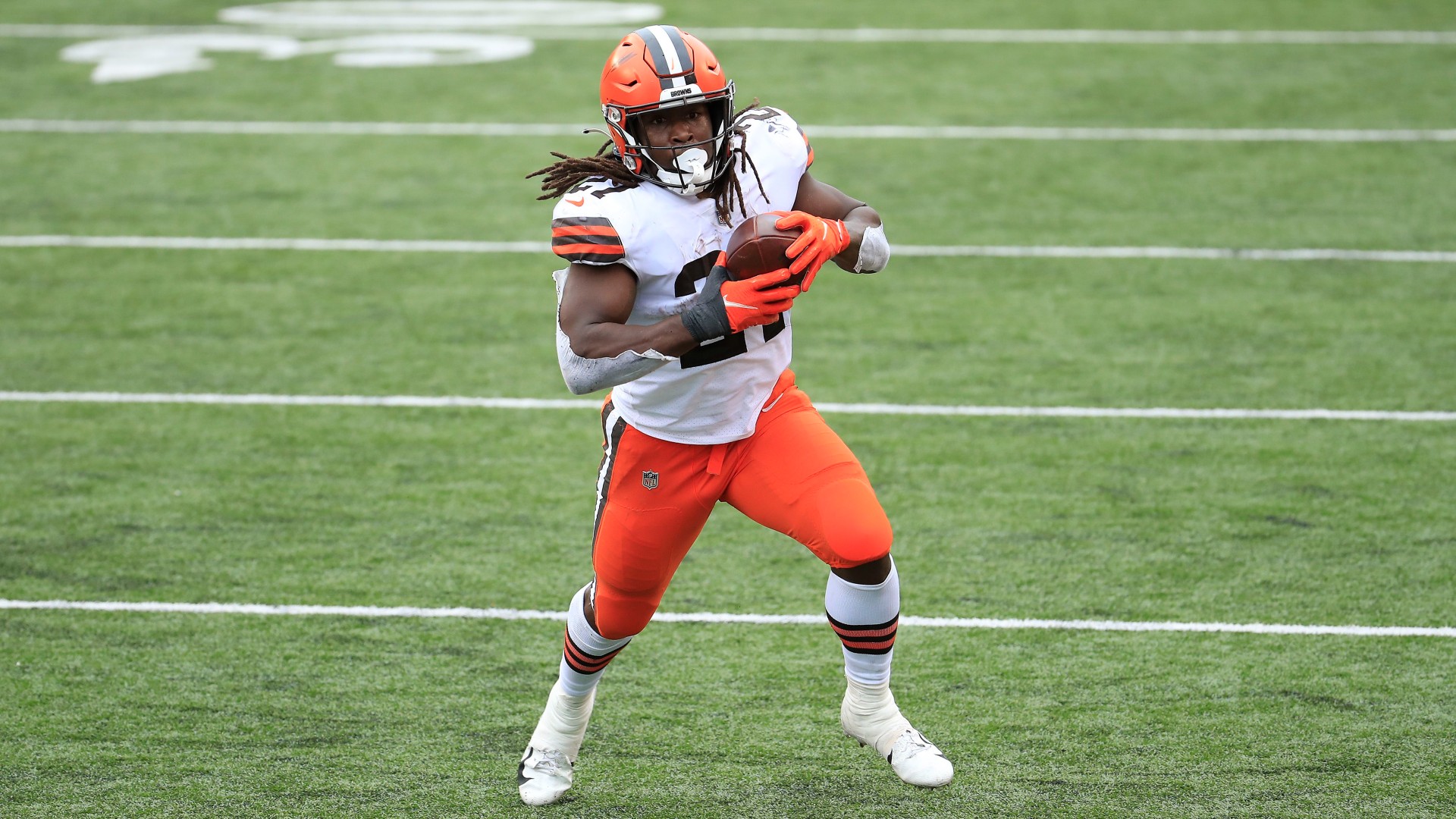 Yes, Nick Chubb and Kareem Hunt are both on this list. The value of Hunt is simply too high to leave him off this list. His ADP is at the top of round six, and getting a playable running back there is incredibly hard. Hunt is a valuable handcuff, but he's also got immense stand alone value.
As already demonstrated, RB touches in this Brown's offense are valuable, and Hunt is capable of taking advantage of them. Hunt is going to catch a decent amount of balls, and he's still going to get a solid number of carries. The Browns are going to run A LOT and while he probably won't get 198 carries again barring injury, 120-130 is easily attainable on this team. He averaged 11 carries a game last year even when Chubb was in, along with two catches per game. 13 touches a game isn't bad at all, and Hunt scored 17 times last year, showing he's a major red zone threat.
Kareem Hunt, who only had sole possession of the Browns RB job in four games mind you, was RB 10 last year. Getting RB 10 at the top of the fifth or sixth round would be absurd value. Even if Chubb doesn't get hurt, Hunt can easily be a startable RB, and at the very least he's near guaranteed a usable flex. His floor is high and his ceiling is also high. For an RB to have both and be available this late is near unheard of, which is why Hunt is a great value.