We're mostly halfway through the football season (there being 17 weeks now throws a wrench in things) but it's still a monumental occasion. For some of you, that means you're already planning for next year, or taking comfort in Daily Fantasy lineups. For the others, you're sitting pretty, possibly having secured a playoff spot already. As for the rest, you're desperately in the hunt. Let's take a moment to remember some of the interesting players that got us where we are at the mid-season mark.
Points Data and ADP from FantasyPros.com, assuming half-PPR
Biggest Surprise: Cordarrelle Patterson
It's been an insane year for Patterson. The RB/WR has burst onto the scene as a top-10 RB after years of being a fantasy nobody. Honestly, he wasn't much of anything in actual football either. He entered the season as an afterthought, going undrafted in leagues. He ranked as RB 70 and 251st overall. Now he's basically the primary running back for the Atlanta Falcons. Mike Davis is still there but losing work relevancy with each passing week. He's racking up yards and touchdowns like crazy on much less touches than all the other backs in his range. That insane efficiency has to drop some, but it's clear Patterson is a core part of this Falcon's offense, and it's clear he is effective, especially catching the ball out of the backfield.
While I never liked Mike Davis, no one could have predicted Cordarrelle Patterson would rise up, a man that's never reached 500 yards in rushing or receiving to date. Now he's on pace to pass 500 in both. He's the biggest surprise of the season so far, and one of the biggest out of left field guys in fantasy probably ever. 30-year old journeymen never bust out like this, but Patterson has defied the odds.
Honorable Mention: Elijah Mitchell
Biggest Disappointment: Allen Robinson
It's been an incredible fall from grace for Robinson, a third or fourth round pick in this year's fantasy draft. Robinson has been a fantasy staple since his breakout in 2013. He's put up 1000+ yard seasons year after year even with subpar QB play and Matt Nagy as his coach. With Andy Dalton, who's been solid his whole career, and the hyped up rookie Justin Fields coming in, there was supposed to be no way Robinson would get worse this year. He should have actually benefited from getting away from Mitchell Trubisky.
Turns out, there was worse QB play, and Robinson has become droppable at this point. It's incredible how little work he's been given. Even with Justin Fields averaging under 200 yards passing per game, you'd think at least a good chunk of that would fall to easily the most talented receiver on the team, ala Brandin Cooks in Houston. Alas, that hasn't been nearly the case. Robinson has been pretty much frozen out of the offense for whatever reason.
There are busts, and there are whatever Allen Robinson has been this year. Even busts have a decent game once in a while, yet Robinson has somehow been held without a double digit game this year. It's been an unfathomably bad performance this year, and I have no idea if there's light at the end of the tunnel. Perhaps Andy Dalton could somehow come back, or Matt Nagy and the coaching staff could get overhauled, but even then his chances are slim.
Honorable Mention: Brandon Aiyuk, Miles Sanders
Rookie of the (Mid)-Year: Ja'Maar Chase
I thought it would be impossible for someone to come in and break the rookie receiving record just one year after Justin Jefferson to do it, but here we are, with Jefferson's old teammate well on pace to do so. Especially with the extra game this season. Despite an incredibly rocky off-season, Chase made his doubters look like a fool, and has been ridiculous through eight weeks. He's catching what seems to be a deep bomb per game, and his connection with Joe Burrows has clearly been maintained past college. He's hauling in catches and touchdowns at an absurd rate, enough to be fantasy's WR 3 thus far and shows few signs of slowing down.
Honorable Mention: Najee Harris
Breakout Performer: Cooper Kupp (and Matt Stafford)
Reserved for guys who were already pretty good, but have entered a new level this year, Kupp is the perfect example. He's been unbelievable, outpacing the rest of the WR field by leaps and bounds. All of this, while being drafted in the late fourth round, often behind teammate Robert Woods. We knew Matthew Stafford was going to upgrade this passing attack, but nearly 100% of the additional value Stafford has brought has all gone to Kupp. He's racking up hundred yard games like candy, and he's even scoring at an absurd rate. He keeps getting open, and Stafford keeps finding him, nearly 10+ times a game.
The gap between Kupp and the No. 2 guy, Tyreek Hill, is the same as the gap between Hill and the No. 10 receiver DeAndre Hopkins. His mid-year stats, 63 catches for 924 yards and 10 touchdowns, would be a good FULL season for a receiver, and he's just halfway done. He's had just one game under double-digits this year, and has just two games under 20!
Honorable Mention: Deebo Samuel, Marquise Brown
Veterans Award: Antonio Brown
This one's for the over-30 guys that are still out there killing it, and Antonio Brown fits the bill. Had he not been injured, his current ranking of WR 27 (still quite good and a flex in any league) would be even higher. In points per game he's WR 6. Brown has been great this year, and hasn't really gotten lost despite the fact that Tampa has so many mouths to feed. Honestly, Tom Brady and Rob Gronkowski could also be here. Brady is QB 1 right now at age 44, while Gronkowski was absolutely killing it before his injury. Brown has shown he's still got something left in the tank, and shouldn't come as a surprise given how dominant he was earlier in his career.
He does sometimes get lost in the shuffle, as he has two games in the single digits, but he's also been over 20 twice, and the other game he was at 19.8. His targets have been solid each game bar Week 2, averaging 9.75 targets per game besides that one. The 33 year-old is getting work, and he's being productive.
Honorable Mentions: Emmanuel Sanders, A.J. Green
Most Random Popoff: Peyton Barber, Week 3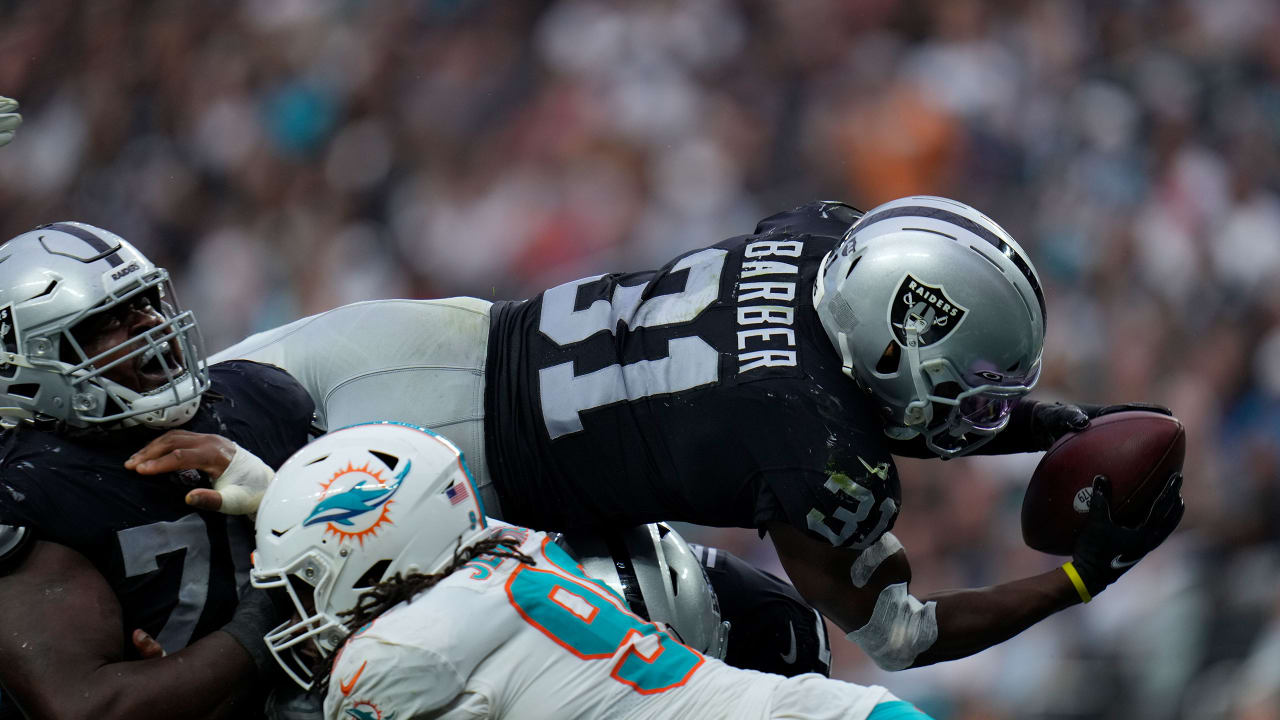 Peyton Barber is also a prime candidate for the "that guy is still in the NFL?" award, and that's why he's the perfect representative of this one as well. Barber hasn't seen significant action in. Even on the Las Vegas Raiders, he was a third-stringer buried on the bottom of the depth chart. Even with Josh Jacobs out, the assumption was that the workload would belong to Kenyan Drake. Instead, in came Peyton Barber, who went off for 111 yards and a score. It was assumed that such a performance would earn Barber some extra playing time, especially over Drake. That hasn't been the case. He saw one carry in the following week, and hasn't had a snap since then. It was truly the most random of popoffs, a 20+ point explosion followed by almost literally nothing.
Honorable Mentions: Elijah Moore Week 9, Donovan Peoples-Jones Week 6