And we're back! With training camps underway and fantasy-draft season picking up, we're here as your trusted advisors with another round of "Kill, Marry, Chill." For the next few weeks, we'll be going through each position and telling you who to kill (avoid drafting), marry (target as quality options), and chill (keep on your radar as a sleeper). So, don't get into your draft just yet, because we know what you need to do to take home that championship. Or, at the very least, avoid that last-place punishment.
These ADPs and QB rankings come courtesy of ESPN and were last updated on August 10. I'll also be looking at these rankings from the standpoint of a 10-team league because an 8-team league is weak and one with 12+ teams is for people who do in-depth research on the Packers' fifth-string wide receiver.
Of course, we start with the quarterbacks. You'll probably hold off until later rounds to get your guy, but when you do decide to pull the trigger on a signal-caller, make sure your guy is the right guy. In the case of these first two QBs, that means letting someone else make the mistake of drafting them.
Kill
Tom Brady (ADP: 75.6, QB 7)
I get it: The GOAT has the league's best 1-2 combo at wide receiver in Mike Evans and Chris Godwin; a loaded group of TEs with Rob Gronkowski, O.J. Howard, and Cameron Brate; and a pass-happy head coach in Bruce Arians. QB 7 though? We still don't know how Brady and Arians will mesh, considering Arians likes to throw the ball downfield and Brady's arm at this point makes Alex Smith look like Patrick Mahomes airing it out.
The guy's also 43 years old now. Tommy's been kicking time's ass and doing things no one has ever done at his age, but the cliff edge is inevitable, and Max Kellerman will be right one of these years. This is just too high of a spot for someone venturing into uncharted territory both figuratively and literally after playing for the greatest coach in the history of professional sports for the last two decades. You're better off sitting a few more rounds and grabbing another skill position because you'll still be able to get a guy with a higher floor and an equally high ceiling.
Honorable Mention – Deshaun Watson (ADP 42.8, QB 3)
I'm not overreacting about DeAndre Hopkins being sold off for a worse return than the one Mr. Krabs got for Spongebob's soul. In fact, it helps Watson's fantasy prospects that the Texans are going to be pretty mediocre this year, because he's going to comfortably set a career-high in pass attempts while desperately trying to win, despite Bill O'Brien's best efforts. Watson's just not in that upper-echelon with Lamar and Mahomes, and the injury history with Houston's skill-position group could fill a file cabinet with medical charts. Skip Watson and take one of these guys a bit later instead…
Marry
Carson Wentz (ADP: 108.9, QB 12)
Putting Wentz into QB2 territory is insane. Sure, he struggled a bit last season by the standard he set in 2017 but seeing him start a full 16-game season should have alleviated any concerns over injuries. With the injury-prone label out of the way, Wentz is squarely in the conversation of fantasy's top signal-callers for 2020.
Just based on last year's numbers, Wentz is going too low. He refused to throw to anyone other than Zach Ertz (which is totally justifiable since Nelson Agholor was one of the starting wideouts for most of the season) and Ginger Jesus was still QB 10 in 2019. Now, Desean Jackson is back after missing almost all last season due to injury, and first-round pick Jalen Reagor will join him as another vertical threat for this offense. Wentz has all the tools he needs to be a QB1 again. Meanwhile, if the Eagles can get the offense clicking again, this is a guy with the potential to end up in the top three of QBs. Don't be an idiot and pass on that kind of upside in round 11.
Honorable Mention – Dak Prescott (ADP: 58.6, QB 6)
No one's sleeping on Dak Prescott, who's one of the first QBs coming off the board, but what isn't there to love about his prospects? He still has one of the best offensive lines in the league, last year's offensive coordinator Kellen Moore is back, and if Amari Cooper and Michael Gallup weren't a potent enough pass-catching core, first-round pick CeeDee Lamb should do the trick.
There's a bit of a complicating factor with the uncertainty around how new Dallas Cowboys Head Coach Mike McCarthy will set up this offense and if Prescott will get to throw the ball 600 times again, but he sounds like he's willing to not mess with a good thing. Last year's second-highest scoring QB is poised for another big season in 2020.
There's a pretty sizable waiting period from when Dak is coming off the board as QB 6 until Brady is getting selected as QB 7. If you're someone who likes the jump on an early QB to lock up one of the elite passers, you can have your cake and eat it too by waiting until round 6 or 7 and still getting a top option in Prescott.
Chill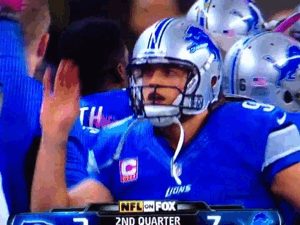 Matt Stafford (ADP 128.9, QB 13)
I know it seems like a stretch to call a guy who's getting drafted as the QB 13 a sleeper, but if you can Stafford in the back-half of your draft, jump on that opportunity. It's easy to forget because he got injured after eight games and he's on the Lions, but Stafford averaged 20.8 fantasy ppg last season, which would have translated to QB 4 in last season's fantasy rankings if he kept up that pace for the full season.
Detroit's five leading receivers from last year back are back for 2020, and the Lions also added running back D'Andre Swift in the second round. The former Georgia Bulldog has earned high marks for his receiving ability, with PFF saying his "receiving versatility is topnotch. Ran crisp routes [in college] from backfield, slot and wide." He'll give Stafford another quality receiving option. If Detroit's long-time starter can stay healthy in 2020, which feels like a safe assumption considering he hadn't missed a game in eight straight seasons before 2019, there's a good chance he'll be a low-tier QB1 with potential for a top-five spot if he can carry over his play from last season. If he's still on the board in round 13 or 14 and you still need a QB, you better snag him.
Honorable Mention – Derek Carr (ADP: 169.3, QB 28)
This one is for the people who like to punt on the QB spot and figure they can get reasonable production from bottom-of-the-barrel guys. Carr is barely getting drafted, so there's a good chance you can pick him up on the waiver wire after the fact. Clearly, he isn't going to set the world on fire in year 7, but he quietly had a very efficient season in 2019 and was QB 16 in fantasy, his sixth straight season of being a top-20 passer. Las Vegas (that's always going to be weird to say) also boosted the pass-catching core with a couple of draft picks, including first-round pick Henry Ruggs, and by dipping into free agency to select the forever-reliable tight end Jason Witten. If you're looking for value, getting a mid-tier QB2 like Carr as an undrafted waiver pick-up is about as good as it gets.