Week 6 is here. Depending on your playoff settings you might be in trouble if you're on the negative side of things. It's time to make some moves. The draft is far enough away that where you picked a guy shouldn't matter too much. Some players just don't have it this year. Some guys are struggling and there is no end in sight. It's high time to give up on them. For some guys that are doing poorly but have a good shot to turn it around, check this out. If you want some guys you should think about selling high, check here.
Points Data from FantasyData, assuming half PPR.
Dak Prescott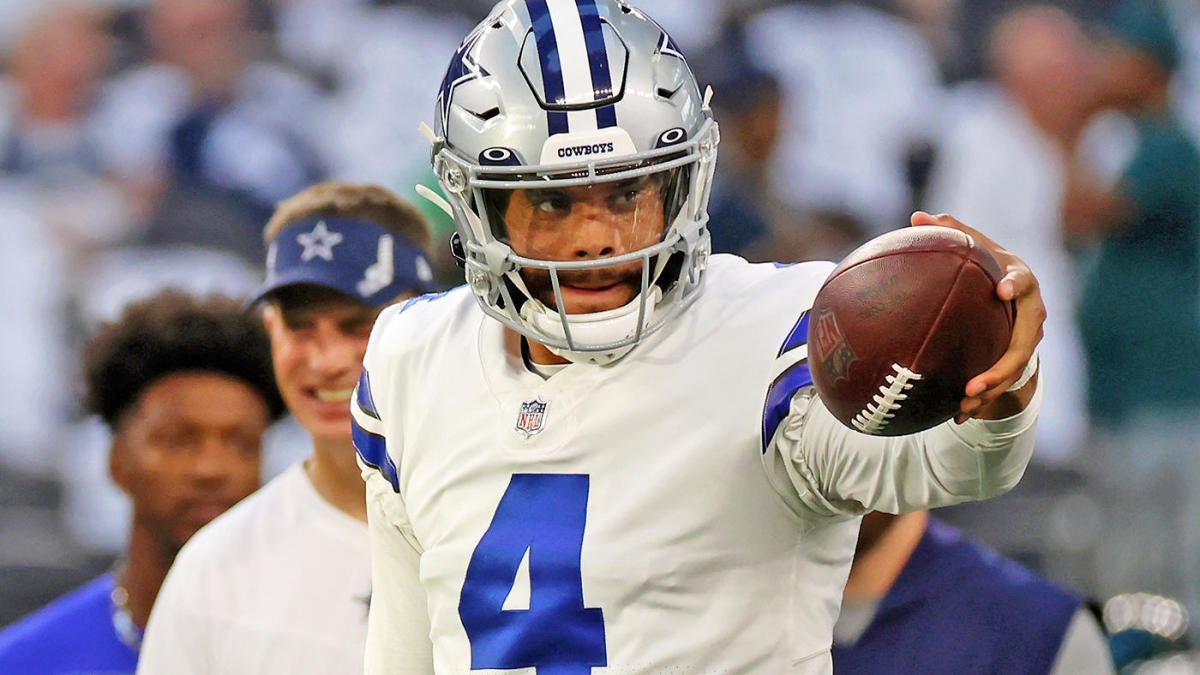 A bit of a controversial one to start off with. Dak hasn't been bad, but his Week 5 performance was sort of a microcosm of his season so far. It was good no doubt, but it wasn't amazing fantasy wise, and his real life team won. That's really the key to be honest. Prescott was insane last year because his team was terrible, particularly the defense. He himself was actually turning the ball over a lot. This dug the Cowboys into big holes that he would pass himself out of. 
Now, the Dallas Cowboys are basically the exact opposite. Trevon Diggs has completely transformed the passing defense. The turnovers they are getting are giving Prescott short fields (limiting yards). The Cowboys are getting early leads and leaning on the run game. 
Dak is doing perfectly fine, and he's hardly ever going to be a bad choice. But through Week 5 he's QB 10, and that's because he passed Russell Wilson and Daniel Jones who got hurt. Considering he was the fifth or sixth QB off the board, you probably had to pay a premium for Dak. He's just not returning value. You don't have to worry about trading him, but you might be able to get a good return for him. He's still playing pretty well unlike a lot of the other guys on this list. 
Ryan Tannehill
Through five weeks, it looks like former Tennessee Titans OC Arthur Smith was the glue keeping this passing offense together. The Titans have looked pretty terrible through the air, whereas recently Matt Ryan is having a mini resurgence. Tannehill has been without Julio Jones and A.J. Brown for two weeks each (and one of those overlapped) but even when he's had them he hasn't really had much success. He's had a couple games where he's thrown the ball quite a few times, but it's more clear than ever this year that this offense is literally Derrick Henry. Sure that's been true other years too, but Tannehill was at least a complementary piece, and he hasn't really been this year. Seemingly more than in the past, the Titans are perfectly content to run Derrick Henry as much as humanly possible and abandon the passing game.
It's possible Tannehill is a positive regression candidate, especially touchdown wise where he's been especially lacking, but I think this just might be the 2021 Titans. Getting Julio back, whenever that will be, should help, and maybe they just need time to gell, but I'm not banking on it. If you can let someone else pay for that potential, I'd do it.
Miles Sanders
Ah Miles Sanders. I've never really been a fan of his game, and he is incredibly overrated by the Philadelphia Eagles fanbase, who will tell you with no hesitation that Sanders is one of the best backs in the league, and often pushing top five. As an Eagles fan myself though, I let myself be tricked into the Sanders hype which was a mistake.
Through five games, Sanders is a pathetic RB 36 averaging 8.5 points per game in half-PPR. Sure, the opportunities aren't really there for Sanders, but even when they are he's not doing much with them. Kenneth Gainwell, a guy I do really like, pretty much offers the same skill set and is sometimes more successful than Sanders (Gainwell is averaging 8.6 PPG).
Bad Situation
Sanders' talent isn't the only problem with his fantasy outlook. As mentioned before, he's really not getting a lot of touches, and it doesn't look that likely to change. Sanders has never been a workhorse type back, and the new offense under Nick Sirianni doesn't seem to value designed runs much at all. He's averaging less than ten carries per game, and he's not really even seeing much extra passing work to compensate, although his catch percentage is up as predicted.
That's compounded by another issue, which is Jalen Hurts' decision making. The Eagles run a lot of RPO's, which according to Sirinanni count as runs even if Hurts chooses to pass. That could be fine, except Hurts doesn't seem to actually take the primary run option very often, further limiting Sanders' touches. So basically, Sirianni is fine with the number of runs he's calling because the RPO "counts as a run" but Hurts is rarely choosing to give the ball up even when he should, which has led to a number of "illegal blocker downfield" penalties.  
The final piece in this terrible puzzle is Kenneth Gainwell. Week 5 was somewhat positive, as it's the first time since Week 2 where Sanders got a firm majority of the touches and Gainwell took a back seat. The thing is, Gainwell is good, and he's not going anywhere. The running back is already barely getting the ball on this Eagles team, and any split only makes it so much worse.
Kenny Golladay
It's been a tough year for Golladay, who I thought was going to be a big signing for the New York Giants. That has turned out not to be the case at all. He's in the 50's for wide receivers, and his most recent injury isn't going to help matters. Golladay is already an injury-prone player, and he's gone through at least two, maybe three injuries in his short tenure with the Giants already. He's not trustworthy for that alone.
It doesn't help that even when he's been healthy he hasn't been productive. Early on, when the Giants were fully healthy, Sterling Shephard and Darius Slayton were getting a ton of work with a little bit of Golladay and Saquon Barkley sprinkled in. This week, it was Kadarius Toney that popped off, and Evan Engram is back too and getting some touches. I had hoped that Golladay would at least rise to the top and leave everyone else fighting for scraps, but it's clear that it is in fact Golladay near the bottom of the totem pole. 
Not on the Same Page
QB Daniel Jones and Golladay haven't meshed, and it's questionable if it's just a time thing. To be fair, Slayton and Shepard were on the team much longer, so maybe with some time Golladay can be integrated better, but there's also a skill fit question. Golladay is a big bodied, contested catch receiver. With someone like Matthew Stafford who is more than fine slinging it into coverage and letting his receivers beat a guy, Golladay can thrive. With someone like Jones, who isn't as willing to do so, Golladay just looks covered all day and Jones looks elsewhere. Perhaps Jones will trust Golladay more as they play together more and Golladay sees a workload increase, but even still at the end of the day he's competing with 3-5 other guys and he's done nothing to differentiate himself.
Brandon Aiyuk
I will remember Brandon Aiyuk's absurd over-ranking in the draft process for life. It was ridiculous he was going that high, and that sentiment is getting proven right. Aiyuk seems to be in Kyle Shanahan's doghouse for whatever reason, but even when he;s been out there he's not doing much. Since Week 2, he's getting well over 50% of the offensive snaps and he's not been a fantasy factor.
George Kittle's injury might open things up, and if he posts a decent outing after the bye I'd try to trade him ASAP. It's abundantly clear that when this 49ers offense has Kittle and Deebo Samuel in, Aiyuk is not a usable player whatsoever. Trey Lance isn't looking for Aiyuk anymore than Jimmy Garopollo is either, so if you thought that would change things it hasn't. Aiyuk probably isn't worth much, but perhaps a Kittle-less week will increase his value and let you get SOMETHING.