In every fantasy football season there are guys that bust out and well over perform their ADP. Some guys are one-hit wonders, or have a crazy start and before settling back into mediocrity. Others are guys that you will use all year. Here are a few players that had unexpectedly hot starts and are likely to stay that way. If you want some players that are scorching right now, but are fade candidates, check here. 
Points Data from FantasyData, assuming half PPR.
Tom Brady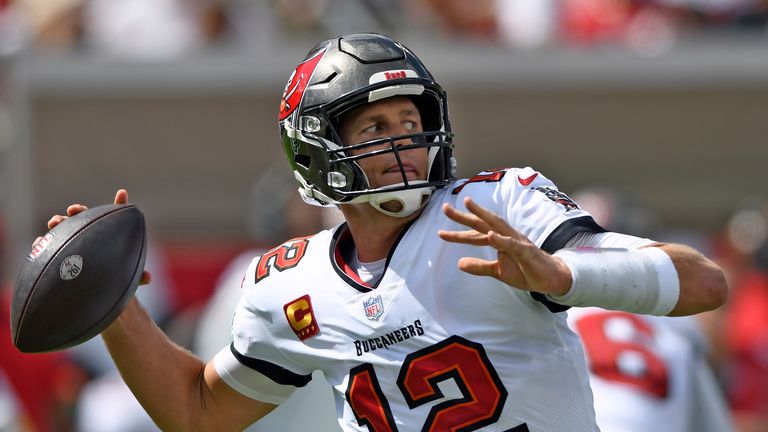 I know it might sound silly now, but fact is Tom Brady was around QB 9 off the board during the draft. That means people did not expect this level of performance from the G.O.A.T, who currently sits at QB 2 after five weeks. This hot start is no fluke either. I've been advocating hard for Brady as someone that was being undervalued this season, and the reasons I gave back then are still true right now.
The obvious one is that his offense is ridiculously stacked. Chris Godwin, Mike Evans, Antonio Brown and Rob Gronkowski is a weapons group that simply cannot be beat. All three of the wide receivers could conceivably be a WR 1 on other teams (AB is a bit of a stretch but he'd be the top guy on the Detroit Lions at least) and before his injury Gronk was the best tight end in 2021. Oh, and he's probably the G.O.A.T for that position too.
Brady is Feeling Comfortable
Secondly, it's more clear than ever that he has truly mastered this Bruce Arians offense, which is as productive as they come for QBs. Through five games last year Brady was still great, with a 12:4 TD:INT ratio and 1375 yards, but this year he's been even better, sporting a 15:2 ratio and 1767 yards. I think some regression is in order for Brady, but the overall performance is going to stay about the same. Not only that, but luckily (for fantasy owners) the Buccaneers secondary is very banged up, and as such are hemorrhaging passing yards. They've actually given up the most yards in the league. This is keeping games competitive, and Tom Brady in the game and chucking it.
His schedule also isn't too bad. The Buccs still need to face the New Orleans Saints twice (currently giving up the ninth most passing yards per game), the Atlanta Falcons again (Tampa dropped 48 on them in the first matchup), the Washington Football Team (sixth most passing yards allowed), the New York Giants (11th), the Indianapolis Colts (13th and just let Lamar Jackson throw for 400+ on them) and the New York Jets (terrible team). The only three matchups that could be tough are the Buffalo Bills, which should be a close game and could easily become a shootout, and the Carolina Panthers twice.
Tom Brady is good, his weapons are good, his offensive system produces high passing numbers and his schedule is pretty easy. Finishing in the top five seems like a formality.
Cordarelle Patterson
Patterson was undrafted in most leagues, and he's currently sitting at RB 6. I don't think that Patterson will stay this hot, and I think he'll settle around a mid-RB 2 slot. Given where he was drafted though, that's no problem.
The reason I believe he'll keep performing pretty well is the workload. Since breaking out he's been steadily getting more and more touches, and against the Jets he got a whopping 21. The catches part is important. He's gotten over five catches a game since Week 1 where he barely played. He's been the more effective back to Mike Davis, and is absorbing more and more of his workload each game. That workload, especially the passing game work, is going to keep him relevant no matter what.
Some Drop-off Expected
I do think Patterson will drop from where he is by quite a bit though. Currently, his yards per reception are crazy high for a running back. Since Week 1, he's averaging 12.26 yards per catch, which is more like a wide receiver's numbers. That will go down, but he could see a corresponding increase in receptions to make up for it if he keeps playing well. He's also scored a remarkably high amount for a running back on these receptions. Four touchdowns in 23 catches is way too high a rate to really be sustainable, especially for a RB. He'll score some more no doubt, but it won't be at this frequency.
Just because Patterson won't stay RB 4 doesn't mean he's not valuable. He's a key part of a decent Falcons offense, and Mike Davis is less of a threat than a lot of secondary backs in timeshares. I'm less worried about Davis than James Conner or Kenneth Gainwell even. They like to get Patterson involved in many ways, and they like using him in the red zone. Hold onto him unless you get an offer you can't refuse.
Kareem Hunt
Hunt was drafted around RB 28 and 60 overall, so a late fifth rounder or early sixth rounder. So far though, he's been RB 4. Like Patterson, I think that drops, but Hunt could easily finish as an RB 1. He's getting a ton of work, nearly 15 touches a game which some starters would kill for. At this point he's basically at a 50/50 split with Nick Chubb. The Cleveland Browns run game has an easy argument for best in the league (the Browns are 1st in rushes, rushing yards, rushing touchdowns and yards per carry), so Hunt is getting basically starter level work in the best situation he could ask for.
One area where I think Hunt might regress is the touchdowns. He's scored four times on six rushes inside the 10 yard line. That rate seems rather high, but perhaps Hunt is just really good down in the red zone, who knows. Chubb on the other hand, has gotten more rushing work in the red zone and inside the 10 (22 and 10 compared to Hunt's 12 and 6) but has scored just twice, and only once from inside the 10. Perhaps Hunt will get MORE work since he's been more efficient, but I think this is just variance from a low sample size.
Still, Hunt's touches aren't going anywhere, and unlike many other backups he's not mostly relegated to just catching work so his value is consistent no matter the game script.
Brandin Cooks
This is somewhat with the caveat that Tyrod Taylor returns eventually. Davis Mills has not been good and it's affecting Cooks. Cooks is currently WR 19, and he was going around pick 103 and WR 43. Cooks is a talented receiver. You don't luck into five 1000 yard seasons. And, as up-and-down a career as Tyrod Taylor has had, he's not horrible. Combine that and you're going to get a pretty productive player. Low-end WR 2 or high end flex is about what you can expect from them going forward.
Touchdowns will probably be hard to come by, as Cooks has never really been a huge TD guy before. Catches and yards on the other hand should absolutely be there. Things have gotten off track since Mills has become the full time starter, but Cooks was clearly the favorite target of Taylor (and who else would be, he's the ONLY guy there pretty much) and they were connecting.
Through 1.5 games with Taylor, Cooks had 12 targets and 10 catches for 182 yards. Mills did throw Cooks his touchdown, and their Week 3 together was great, but the last two weeks have been a bit of a train wreck. That was up against the Bills though, who have been great defensively and just sort of shut down Patrick Mahomes, and the New England Patriots who are the only team to hold Tom Brady touchdown-less. Cooks can get it done with Mills, and better things are ahead when Tyrod returns.
Michael Pittman Jr.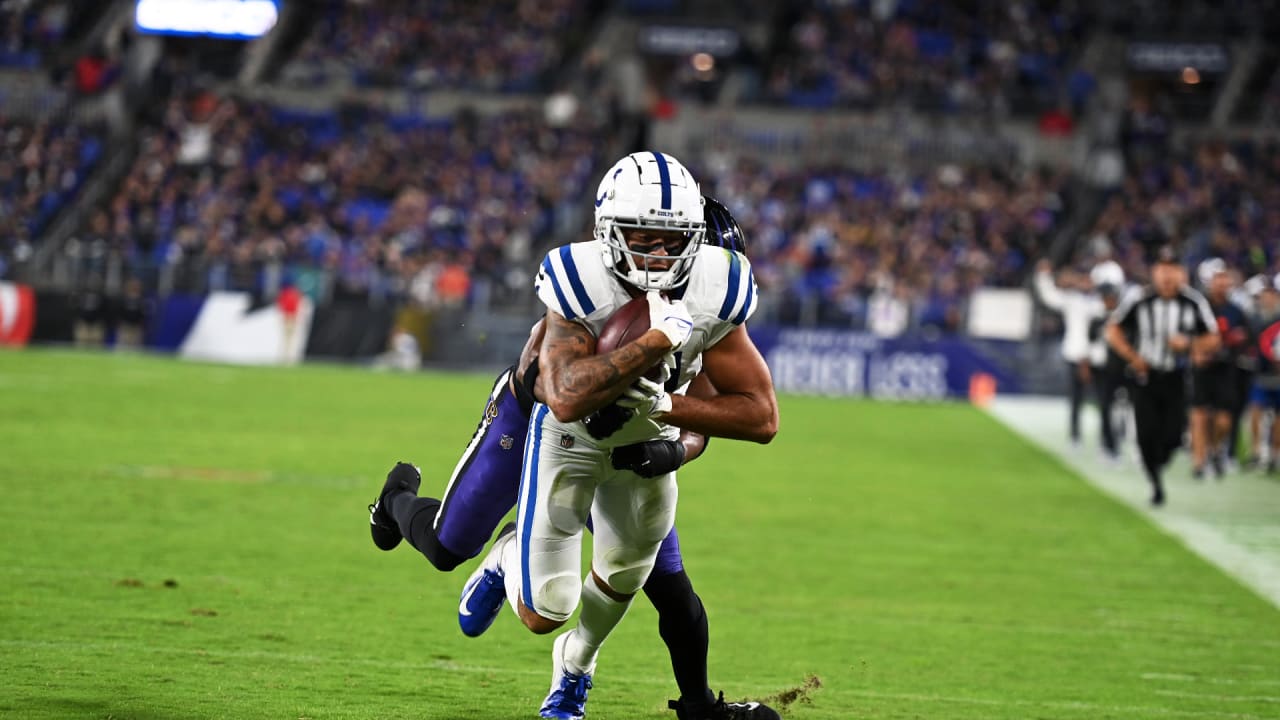 Pittman is just WR 26, the lowest overall player on this list, but that's still a solid flex. Considering his ADP was around 97.3 and WR 40, he's way outperforming his draft stock. Through five games Colts' QB Carson Wentz is having one of the best seasons of his career. Wentz has thrown seven touchdowns to just one interception so far, and he's averaging 264.4 yards per game, second most in his career. Pittman, as the best wide receiver on the team, stands to benefit the most from a Wentz resurgence.
Besides a pedestrian Week 1, Pittman is averaging 9.8 targets per game, which is fantastic. He's also clearly got talent, as the nation watched him Moss two defenders on Monday night. The top receiver on any somewhat competent offense (which the Colts are right now, right around middle of the pack passing) is generally going to be a fantasy asset, and it's not like Pittman is competing with a lot. T.Y. Hilton is coming back, but I highly doubt that affects Pittmann too much.
Another feather in Pittman's cap is that while the offense is doing fine, the defense is not. They've given up the most passing touchdowns in the league so far, and Lamar Jackson just absolutely eviscerated them through the air. That means the Colts will either be losing alot, or will be in mostly close games. Winning blowouts aren't going to be common with the Colts, which means Pittman will always be a part of the game plan.