It's been said many times and many ways that football is won in the trenches. The offensive line affects everything on offense. It can make average players look great, and it can make good players look terrible. If you have a great five man unit, you're well-positioned to do whatever you want on offense. So, even though you don't play offensive linemen in fantasy they are still important. They are often what separates your precious first round running back from okay to stud, or your sleeper becoming the steal of the draft or staying fast asleep.
Teams with poor offensive lines often look to the draft to solve their problems, and fans often expect their line to improve with new rookies coming in. Is that true though? Do rookie linemen often succeed? If you want a player on a team with a poor line and they draft someone first round, should you feel better about taking them? Let's find out by looking at the past few first round linemen and how they did.
2020
| | |
| --- | --- |
| Lineman | PFF Grade (OV/PB/RB) |
| NYG Pick 3: OT Andrew Thomas | 62.4/62.4/54.7 |
| CLE Pick 10: OT Jedrick Wills Jr. | 61.5/79.4/50.3 |
| NYJ Pick 11: OT Mekhi Becton | 74.4/76.0/73.9 |
| TB Pick 13: OT Tristan Wirfs | 82.3/81.0/75.8 |
| MIA Pick 18: OT Austin Jackson | 52.3/53.3/49.5 |
| NO Pick 24: C Cesar Ruiz | 58.6/43.4/61.6 |
| TEN Pick 29: OT Isaiah Wilson | N/A |
An interesting crop of backs this time around. The offenses were all over the place, but only 2/7 of these guys had truly positive grades in Becton and Wirfs. Two had poor grades while Wilson saw three snaps and is one of the biggest busts in NFL history. Finally, Thomas and Wills Jr. both posted average overall grades but were really poor at pass blocking. Still though, for the sake of fairness we'll consider anything over a 60 overall grade as someone who contributed to the team. We start off pretty strong at 4/7.
2019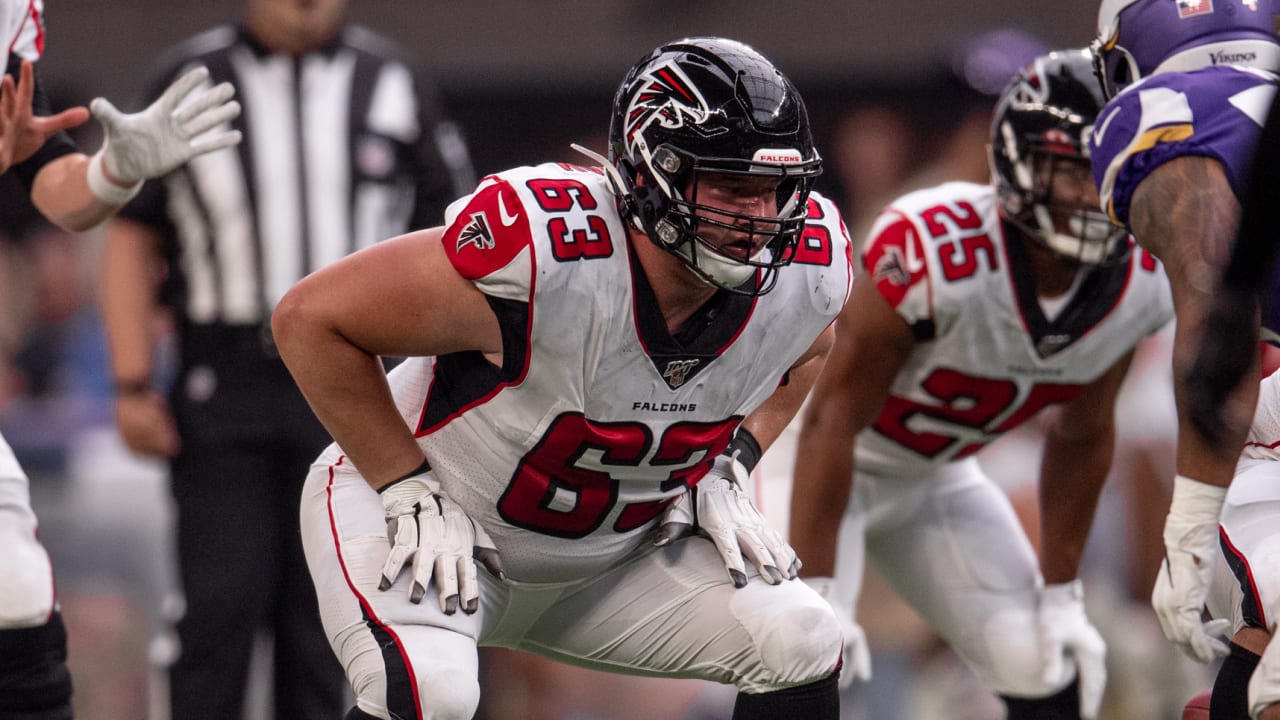 | | |
| --- | --- |
| Lineman | PFF Grade (OV/PB/RB) |
| CIN Pick 11: OT Jonah Williams | N/A |
| ATL Pick 14: OG Chris Lindstrom | 66.6/63.0/67.4 |
| MIN Pick 18: C Garrett Bradbury | 58.1/38.7/61.9 |
| PHI Pick 22: OT Andre Dillard | 59.7/59.2/58.2 |
| HOU Pick 23: OT Tytus Howard | 59.4/70.4/51.2 |
| ATL Pick 31: OT Kaleb McGary | 53.0/52.8/53.9 |
A pretty horrible group. No one reached the heights of Becton or Wirfs, and everyone was between that 50-60 range besides Lindstrom. According to PFF's own twitter, grades less than 59 are ultimately replaceable players, meaning most of these guys that actually played didn't really help the team all that much. That takes us to 5/13 first round linemen that you can consider really improved or helped the team out.
2018
| | |
| --- | --- |
| Lineman | PFF Grade (OV/PB/RB) |
| IND Pick 6: OG Quenton Nelson | 79.7/81.9/77.7 |
| SF Pick 9: OT Mike McGlinchey | 74.8/64.2/81.2 |
| OAK Pick 15: OT Kolton Miller | 49.6/52.7/46.8 |
| DET Pick 20: C Frank Ragnow | 66.5/57.1/68.2 |
| CIN Pick 21: C Billy Price | 55.6/66.0/57.3 |
| NE Pick 23: OT Isaiah Wynn | N/A |
Overall a solid class, headlined by Nelson and McGlinchey. Ragnow also got a playable grade, while Miller got by far the lowest grade yet, the first sub-50. An important thing to note is that this is only taking into account their first year of production. Miller and Ragnow have both improved since this year especially Miller, who posted a 72.9 grade in 2020. Isaiah Wynn has also posted great grades since he's been inserted into the lineup.
That's the thing though. These first round linemen will probably help eventually, but this article is specifically can you count on them year one. So far, we're at 8/19 or 42.1% chance they'll be contributors in their rookie season. Not bad, but far from something to really count on.
2017
| | |
| --- | --- |
| Lineman | PFF Grade (OV/PB/RB) |
| DEN Pick 20: OT Garett Bolles | 72.9/70.5/74.2 |
| NO Pick 32: OT Ryan Ramczyk | 80.5/76.4/77.2 |
Only two names but they were both great. Not much else, to say, except we're now at 10/21 or nearly 50%.
2016
| | |
| --- | --- |
| Lineman | PFF Grade (OV/PB/RB) |
| BAL Pick 6: OT Ronnie Stanley | 74.8/82.6/62.6 |
| TEN Pick 8: OT Jack Conklin | 80.6/80/9/74.0 |
| MIA Pick 13: OT Laremy Tunsil | 64.3/74.5/57.6 |
| DET Pick 16: OT Taylor Decker | 82.1/82.1/75.4 |
| IND Pick 18: C Ryan Kelly | 72.4/80.2/68.5 |
| SF Pick 28: OG Joshua Garnett | 61.5/55.5/63.4 |
| SEA Pick 31: OT Germain Ifedi | 51.3/35.7/68.8 |
A really nice group in 2016. Four guys were instant plug and play starters, while two more probably improved the team, while just one really failed to make a major impact in Ifedi. Considering he was the last one taken, that's not too bad. That takes us over 50% of first round linemen that contribute to a team, 16/28, or 57.1%.
What This Means
57.1% of linemen drafted in the first round actually contribute positively to the team. Honestly that figure is higher than I expected. Still, it means that basically half of the linemen drafted each year probably aren't going to help much on their teams line. If you were expecting a major improvement in line play for a running back you're targeting, be aware that half the time it won't make a difference. If we shift the criteria a little higher (60-69 according to that scale linked earlier means backup level play) and go 70+ as players that are actually good year one, it's an even more exclusive group. It comes out to just 10/28 or 35%. Basically 1/3.
A few additional disclaimers. PFF isn't everybody's favorite, but they are one of the few tools available that grade offensive linemen. Still, these numbers can be taken with some grains of salt. Secondly, 28 players, or five years of data isn't a lot. The number is subject to change with just a few bad drafts, like 2019 is the majority of the 50-59 guys in this set. However on recollection alone, 2014 and 2015 ended up being pretty poor classes, which would actually drag the 57.1% down quite a bit if they were included. Still, there are some trends we can pick up on.
What about 2021?
In CBS' latest mock draft, they project six offensive linemen to go in the first round. A lot of fantasy owners will think that means the team that drafts them will have better lines compared to last year. According to the data however, only three of those guys are likely to not be detrimental to the team, and only two of them will actually excel and really improve the line.
Tackles are overwhelmingly the majority of first round picks, which makes sense. They are the most valued member of the line after all. That means they have the biggest mix of players as they usually have the best and worst numbers of the group. In the five years examined, only three guards were taken, but none of them had sub-60 grades either. It seems if you are good enough to be a first round guard it means something. Five centers were taken and three of those five had below 60 grades, and just one had 70+. That seems to be a difficult position to evaluate.
Most of the linemen projected to go in the first round this year at least played tackle in college. Whether they end up there by the end of the year is up to the team that drafts them. There's no way to be sure which three linemen will do well year one, and due to how averages work it might be higher or lower this year. The point is though, that a first round lineman far from guarantees a better line. When doing your evaluations, especially on running backs, that's something to keep in mind.